Grads share Mi'kmaw culture through tourism operation
Kluskap Ridge RV and Campground in Cape Breton offers unique experience.
As Austin Christmas stood high above St. Ann's Bay overlooking the land and water below, it was a Mi'kmaw legend that came to mind.
"This mountain is sacred to the Mi'kmaq," says Austin. "It is said that our legends come directly from here. We feel that our people are here with us also."
Overcome by the power of the view and its significance, a fact-finding trip to learn about the campground industry quickly turned into a site visit to the property that Austin would soon own and operate with his wife Rosemarie and their four business partners.
This mountain is sacred to the Mi'kmaq. It is said that our legends come directly from here. We feel that our people are here with us.
Austin Christmas
"When we stepped foot on this place, there was no turning back," said Austin. "I said at that time, 'This is ours'."
They renamed the campground Kluskap Ridge RV and Campground – in honour of the cultural hero of the Mi'kmaq people – and the two NSCC graduates and their business partners vowed to create a campground like no other in the Maritime provinces.
An Indigenous experience
"We wanted to give people an Aboriginal experience," said Rosemarie. That experience includes two tipis that can be reserved by campers, the nightly stories told to the beat of a hand drum, the handmade luskinikn bread baked and shared by Austin's mother and resident elder, and the countless other Aboriginal experiences and details that enhance Kluskap Ridge.
"That's a big part of our culture," says Austin of his desire to share his culture and stories with others as a way to change preconceived ideas.
The tipis have been particularly popular with non-Aboriginal visitors.
"Travelers love it," says Austin. "When they are looking for a different experience – traveling the Cabot Trail or throughout Nova Scotia to different communities – nobody has this."
It takes a community
These entrepreneurs feel their role as members of Membertou First Nation has had a great impact on their business style.
"When we first bought the place we had a meeting with local residents," says Austin.
"They had a lot of questions for us," adds Rosemarie. "A lot."
They both knew they couldn't be successful without local support. "We run businesses in Membertou," he adds, "and know that we need a community to make any business succeed."
Rosemarie notes that it's the community that's become the best part of owning Kluskap Ridge. "The biggest reward has been welcoming our neighbours and seeing them return because they love it."
With their success to date, Austin adds that an eventual expansion of the campground isn't out of the question.
Fast Fact
According to the Unama'ki Institute of Natural Resources, a cave on Kelly's Mountain in Cape Breton was the last Earthly home of Kluskap before he left to the sky world. Kluskap was both a giant and a friend of the Mi'kmaq people. He is honoured as a cultural hero who was sent to Earth by Kisu'lk, the Creator, with a bolt of lightning.
Related Stories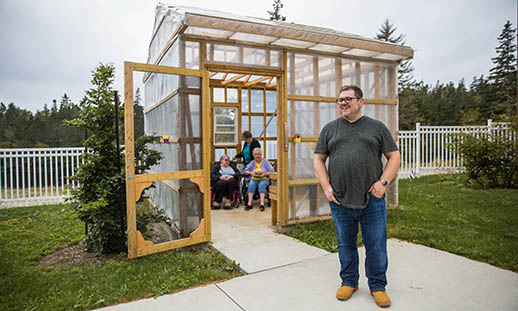 Community crops
NSCC Social Services student leads greenhouse build for retirement home.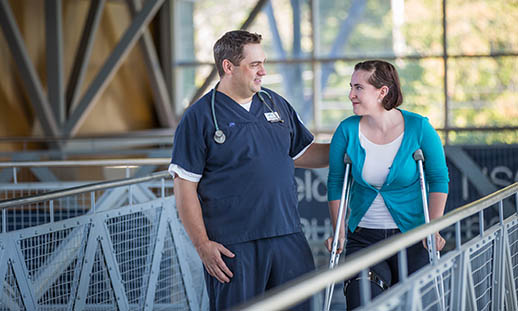 It's never too late
After two decades working out West, Shawn Goulding is fulfilling his dream as a practical nurse.