It's never too late

Walking into a classroom for the first time in 20 years, Shawn Goulding felt like an outsider. Having worked in a male-dominated industry for the better part of two decades, he found himself in a Practical Nursing program surrounded by younger, mostly female, classmates.
But that didn't deter him. He was finally pursuing his dream career.
"I always had an interest in nursing," he says. "I think my passion has always been helping people and nursing seemed like the best way to do that."
As a teenager in Newfoundland, Shawn had been interested in nursing. Instead he took a job in construction and moved out West. At 38, he had moved to Country Harbour, Nova Scotia with his wife and was travelling to Alberta for weeks on end, spending too much time away from his family. He knew he needed to make a change.
"My wife and I had two kids and another on the way and I felt that I was missing so much," he says. "I thought 'enough is enough.'"
That's when he decided to follow his passion for helping others and enrol in the PN program at Pictou Campus.
"It was difficult at first. But I found my footing and quickly developed life-long friendships," he explains.
It's so rewarding to feel like you make a difference. Nurses help people stay healthy, and healthy people make healthy communities.
Shawn Goulding
No regrets
Shawn, who graduated this past June, is now a practical nurse (PN) at St. Martha's Regional Hospital in Antigonish. He feels he's really making a difference in his community.
"Nurses help people stay healthy and healthy people make healthy communities," says Shawn. "Many times, I know the person coming through the door. It's someone's sister, grandmother, or father. I want to be the person who helps them at a difficult time."
Shawn hopes to one day lend his skills to the field of mental health, of which he's always had an interest. "I'm intrigued by that field and I want to learn more about it, about how I can help more people."
That drive is not surprising to Jenelle Durdle, one of Shawn's instructors at NSCC.
"It's clear Shawn is motivated by a passion to care for others and a deep desire to work close to home and his family. He has a strong work ethic, leadership skills and knows how to reach his goals."
Despite his newfound career, Shawn has one regret.
"That I didn't do it sooner. This is what I always wanted and I'm so happy I did it. The work is so rewarding and it feels good to know that I make a difference."
Fast Fact
Shawn had been interested in nursing after high school, but ended up working in construction for two decades in Alberta.
Related Stories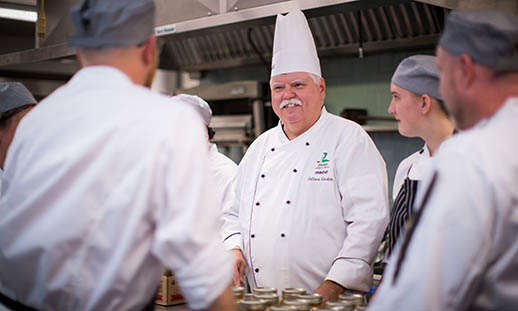 Yes, Chef!
Chef Gilles Godin teaches the next generation of cooks how to keep their skills and their knives sharp.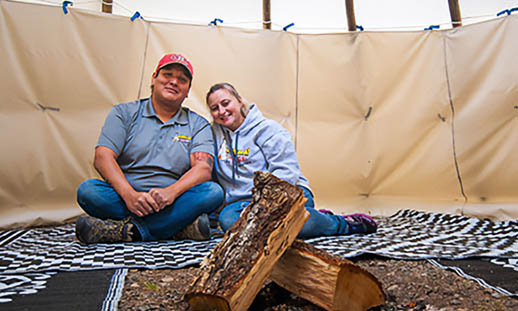 Grads share Mi'kmaw culture through tourism operation
Kluskap Ridge in Cape Breton offers unique experiences for campers.