Students building for future students

It's hard to hide the passion that lights up her face when Hilary Ward describes the hands-on learning she's gained while completing her
Carpentry Diploma
. The second-year student at
Ivany Campus
is busy studying every technique and theory she can before she graduates – while also holding a part-time job with Bird Construction.
A full circle moment
Hilary describes it as a 'full circle moment' when thinking about her latest work site with Bird Construction. Working at NSCC's latest housing builds, Hilary often spends her Fridays working with a fellow classmate at the
Akerley Campus construction site
when she doesn't have class. "It's really cool to think about – being a student and helping to build housing for future students like me. I'm putting everything I'm learning in the classroom into practice and vice versa. I have a lot of 'aha' moments when theories and hands-on learning come together."
"I was there when we broke ground at Akerley Campus and that was cool," says Hilary. "I work mostly doing deficiencies once the building is done, so it's neat to see the whole project come together. With student housing, I'm on the 'tilt up' team. We build from the ground up, forming the panels, prepping foam insulation for windows and then insulating panels. It's important work."
The value of hands-on learning
Hilary is no stranger to the idea of hands-on learning. A co-op opportunity in high school introduced her to the carpentry field. "You could try anything, and I knew I wanted to try carpentry" she says. "I threw myself into it without knowing anything. I enjoyed taking shop classes, but they were never enough. I was placed at Bird Construction for a five-week placement and ended up being hired as a full-time summer staff member and part-time while in school."

Creativity runs in her family, and Hilary knew working with her hands was a requirement of the career path she'd one day choose. Both of her grandfather's knew how to build – one building their family cottage and the other known for building furniture. "It's kind of within the family, but it never interested me as a kid, so it's funny I ended up drawn to this field. Now I want to one day take over those jobs for them."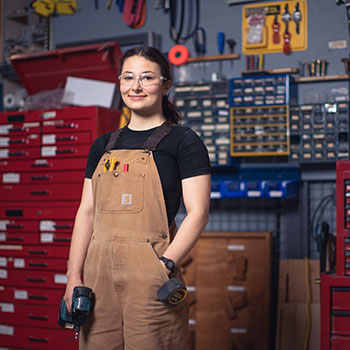 Building a portfolio
The two-year Carpentry Diploma includes numerous work placements throughout the program, giving students ongoing hands-on experience for their portfolios. For Hilary, she's used these opportunities to gain more experience with Bird Construction, exploring more of the commercial side of carpentry while she focuses on residential carpentry in the classroom.

Set to graduate in June, Hilary is eager to hit the ground running. "I feel so much more ready to enter the carpentry field. I have strong confidence in myself. I accredit that to the consistent hands-on learning this program gave me and that I've gained through working with Bird," she said. "I have a full picture of what my industry is going to be like and a portfolio overflowing with experience I've gained."

For those entering the program, Hilary's advice is to 'be patient and trust the process.' "We all want to be in the field and working with our hands - but the classroom work where you're learning the theory behind the technique is equally important," she explains. "Your instructors are building you up to properly immerse yourself to this trade and to be great at it, not just 'good enough'."
Next steps
Up next, Hilary plans to obtain her Red Seal in carpentry while continuing to work with Bird Construction. With hopes to one day run her own business, she's eager to take full control of her new career so she can experience all avenues of the carpentry field without restricting herself to one area of focus.