Meet Trinity Maloney
Name: Trinity Maloney
Program: Tourism Business
Campus: Akerley
Class of: 2023

What brought you to NSCC and this program?
I started my NSCC journey in 2019 at the Truro Campus, where I graduated from the Adult Learning Program and found my passion for school again. I never thought of myself as being a college student after years of struggling with my education journey, so the thought of being able to apply to post-secondary education was exciting. I started in the Tourism Hospitality program, which I felt would be a go intro program before I make the big decisions to apply for the two-year Tourism Business program.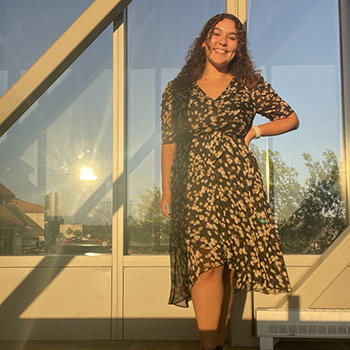 What's something that has surprised you about NSCC?
I had the opportunity to study at the Kingstec Campus before coming to finish the rest of my program at Akerley, so I was able to see the relationships that each campus had with each other. They genuinely care for each other and have a strong bond over their love for the students and their success in the tourism industry.

What is your favourite spot on campus?
My favourite spot-on campus must be study pods in the library. It's always such a relaxing feeling with all the natural light. Also, everyone in the area is so respectful to each other.

What has been your most memorable NSCC moment so far?
My most memorable moment at NSCC so far has been the opportunity we are given to not only learn about the tourism industry but also to speak to people who are thriving within the industry and be able to get a behind-the-scenes tour of the business and hear the stories every place has to tell.

What do you love most about your program?
The different cultures and diversity within the classroom. With people from all around the world, it's opened so many conversations during every course to see and hear different perspectives of how people from diverse backgrounds would handle different situations within the tourism industry.

What do you plan to do when you graduate?
After I graduate, I plan on continuing my education at MSVU to get my Bachelor of Tourism and Hospitality Management. In addition, I hope to pursue a tourism career that involves my own Mi'kmaq culture.

What advice would you give to a friend considering NSCC/your program?
Always ask questions and never be scared to speak your mind. All the faculty at NSCC genuinely care and want to see their students succeed, which means they will do anything they want can to help you reach your goals.

What is the best advice you've received that's helped you during your time at NSCC?
The best advice I've received during my time at NSCC would be to be open to the hard or the super good feedback that you can actively listen to, analyze and reflect on will help allow you to grow as a person in both your personal and professional life.