Meet Leonardo Silva
Name:
Leonardo 'Leo' Silva
Program:
Business Hospitality
Campus:
Akerley
Class of:
2023
What brought you to NSCC and to this program?
After having the chance to visit so many places because of my experience working on cruise ships, Halifax felt like a place I could picture myself living. In addition, I found out that NSCC had the
Business Hospitality
program that has everything to do with what I have been doing for the past five to six years.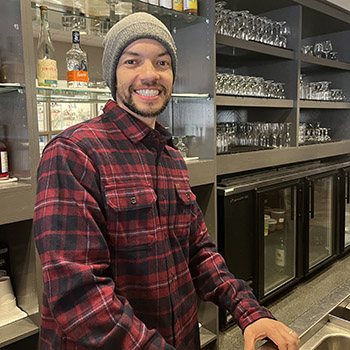 What's something that has surprised you about NSCC?
The size of the campus was my first surprise. I knew that it would be large, but what I found online didn't do it justice. Also, the quality and variety of classes and labs surprised me in a very positive way.

What is your favourite spot on campus?
The place that I like the most at Akerley Campus is the library. The studying area that faces the wall of glass in the campus façade is my favorite. In my opinion, it is the perfect place for tackling individual and group assignments. (Spoiler alert: There are many of them through the program!)

What has been your most memorable NSCC moment so far?
So far the most memorable one was when I did a takeover of NSCC's Instagram to share what a day in the life of an international Business Hospitality student is like.

What do you love most about your program?
I love that it allows me to get to know people – that's how I learn and evolve. I love connecting with so many interesting people.  

What do you plan to do when you graduate?
My plan is to get a management position in a nice, casual, and fast-paced restaurant. With that I will also be able to deal with the other part of the restaurant operation.

What advice would you give to a friend considering NSCC/your program? 
You must be open to work in groups, to talk, and pay attention to time management.

What is the best advice you've received that's helped you during your time at NSCC?
I was told to take part in as many activities as possible, and to take advantage of the knowledge and experience of the instructors, ask questions, ask for suggestions, ask for advice. I have to say that these were great advice that everyone should listen to.