Meet Hilary Ward
Name: Hilary Ward
Program: Carpentry Diploma
Campus: Ivany
Class of: 2023

What brought you to NSCC and to this program?
I was originally drawn to NSCC because I knew had more of a "creative" brain and that university may not have been the best learning experience for me. I always enjoyed hands-on learning and creating things of my own.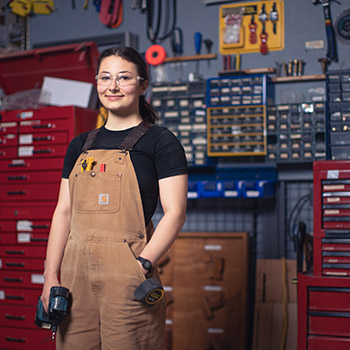 What's something that has surprised you about NSCC?
The wide variety of people that go to school there. On the first day I was expecting to see a class full of people fresh out of high school just like me, but there were people of all ages in my class, and they all have different reasons they took the course and what they want to get out of it.

What's your favourite spot on campus?
Anywhere by the front of the school where there are huge windows and you're able to see the beautiful view of Halifax and watch the ferry go by.

What has been your most memorable NSCC moment so far?
Meeting all my friends in my class that I'm so close with today. I couldn't imagine not having these people in my life and I'm extremely grateful I got the opportunity to take this course and meet them along the way.

What do you love most about your program?
What I love most is the small class sizes. My class at Ivany Campus has under 20 people and it really gives you the opportunity to build strong connections with your classmates and also get more one-on-one time with the teacher.

What advice would you give to a friend considering NSCC/your program?
Be patient. In the beginning, it can seem like it's taking forever to get to the "fun part", but in no time you'll be building sheds and hanging doors and doing baseboard and window trim and all the other exciting things that you get to do in second year. The first year is a lot of theory that prepares you for when you enter the field, and in second year you really get to see the connection between what you learn in class, and the projects you get to do in shop.