Grad builds on precision machining skills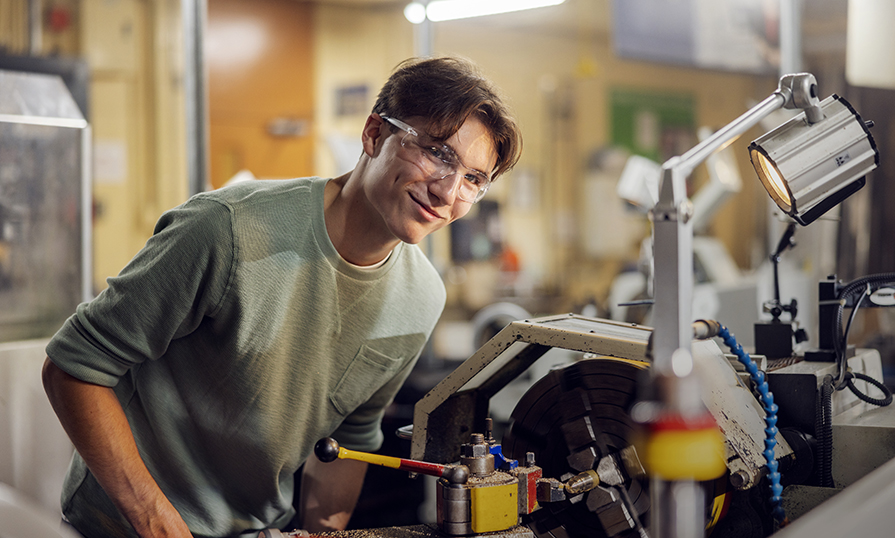 Driven by a passion for craftsmanship and a desire for hands-on learning, Bryden Surette knew he wanted a career in the trades. "I was always interested in the trades, so NSCC was my first option," says Bryden. "I always liked building stuff with my hands and finding new ways to make different things, so machining was what I really took interest in," he adds.

Bryden's journey into the world of machining began at Skipper Fisheries, a machine shop in his hometown of Yarmouth, where he started working after he finished high school. Hoping to build on his knowledge, Bryden enrolled in the Precision Machining program at NSCC Kingstec Campus in Kentville. "The program was really awesome. We learned a lot of fundamentals and a lot of really in-depth stuff on how to make things," he says. "The teachers were really hands-on to help you learn."
More than academics
While attending the College, Bryden enjoyed more than just the academic experience. "The food in the cafeteria was really good," he laughs, recounting the delectable smells and memories made with newfound friends in the campus cafeteria. "The trades intertwine, so I made friends from all the different programs, not just my own," Bryden says. "Sometimes the Heavy Duty Mechanic [students] came over to the machine shop to have parts made. So, we would make parts for them. They would help us with stuff and we made a connection."

Being from Yarmouth, Bryden moved to Wolfville while attending NSCC. "It's a really nice place to live. The people are nice, and since I was away from home, I picked up a ton of new hobbies," noting that he loves taking part in a variety of outdoor sports and activities.
Showcasing skills
As an unexpected highlight, Bryden participated in a Skills Nova Scotia competition showcasing skills that he had learned in the Precision Machining program. "It was really fun, I wasn't expecting to do that," he exclaims. "It was a big challenge. I was competing with a fourth-year apprentice and another guy who had done the exact same projects last year, so I just put my head down, looked at my work and powered through. I got third place out of six," he says proudly, adding that he plans on taking part in the competition for the next three years.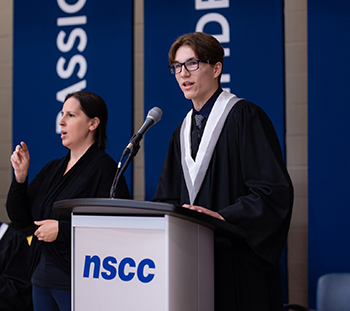 A proud valedictorian
Recognizing his dedication and achievements, Bryden had the honour of being valedictorian for his campus. In his valedictory address, he thanked NSCC faculty and staff who helped along the way and shared fond memories of his time at the College. "I remember during the first semester seeing the speed and knowledge of the second-year students and thinking, 'Wow, they're way better than I am.' This was intimidating, but also motivating for me. I was determined to get to their level, if not surpass them. This helped me improve and strive to do better," he states in his speech, which brought the audience to their feet, cheering when he wrapped up.
Coming full circle
Post-graduation, Bryden's journey came full circle. He returned to the machine shop he previously worked at in Yarmouth, with expanded knowledge and skills gained from NSCC. "I noticed a big change in my productivity," he says, reflecting on the impact of his education. "In the program, you get tons of different experiences and you learn a lot about precision machining. If you like working with your hands and making things, I'd recommend joining the program."