NSCC Research expertise creates opportunities for industry, students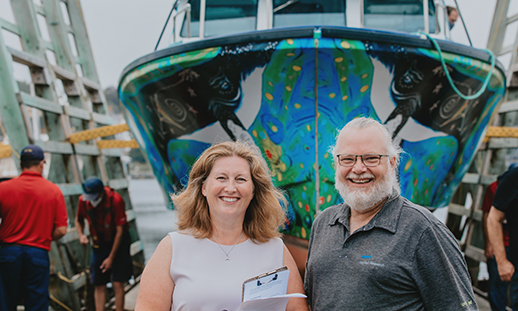 Launching a new company that specializes in converting boats to electric energy posed considerable challenges for Sue Molloy and the team at Glas Ocean Electric. But the Applied Energy Research Lab at the Nova Scotia Community College helped the company navigate its way to its first conversion project with relatively smooth sailing.
"Being a start up, you don't have many resources on hand, so having access to that expertise was critical in our planning," says Sue, president of Glas Ocean Electric. "They were able to help us with everything from building a prototype to confirming that the issues we were facing were normal. But more than that, it helped that they brought incredible enthusiasm to this undertaking, which is what you need when you are just getting started. They really bolstered us."
Applied research growth
For more than 20 years, the College's Applied Research team has been bolstering the province's entrepreneurs, economy, and communities by providing practical solutions to the challenges that Nova Scotians such as Sue face each day. It is a legacy of impact and advancement, one that has been made possible by many different research groups. For example, the applied Geomatics Research Group is the only Canadian college using topobathymetric lidar as it maps the province's coastal regions and aquaculture sites to support sustainable development. The Applied Energy Research team is advancing the development of new, clean energy technologies that are reducing greenhouse gases. And SEATAC—Nova Scotia's first technology access centre—is delivering research and development expertise that is enabling our province to succeed in the growing global ocean economy.

"Our research groups have conducted more than 700 projects to date with industry and community partners," says Alain Joseph, director of applied research. "The College was one of the first to enter the realm of applied research and the work of our research groups reflects our mission to improve the economy and create innovation. I love that we have this expertise, and we apply it in ways that I believe rank us among Canada's best colleges for applied science."
Expanding hands-on learning for students
Through these projects, NSCC is creating opportunities for its learners to gain vital real-world experience and make industry connections that not only open career doors upon graduation but also transform them into Applied Research peers. But Alain notes these learners have also opened new avenues of exploration for NSCC's researchers that have the potential to further diversify our economy. "They really add another dimension to the kind of innovation we are pursuing because they are interested in everything from electric cars to cryptocurrencies," he says. "Their perspectives help keep us connected to emerging ideas and technologies."

Alain adds that the emerging needs of Nova Scotia's communities have inspired the College to advance its approach to research beyond the realm of science and engineering. There are projects involving mental health, physical health, foodservice, and communities that have not traditionally been engaged in research, such as Mi'kmaq and African Nova Scotians. He is also looking forward to the opening of the new Applied Research Lab at the Marconi campus in 2024, which will enable more industry and community partnerships.