Embracing accessibility in all forms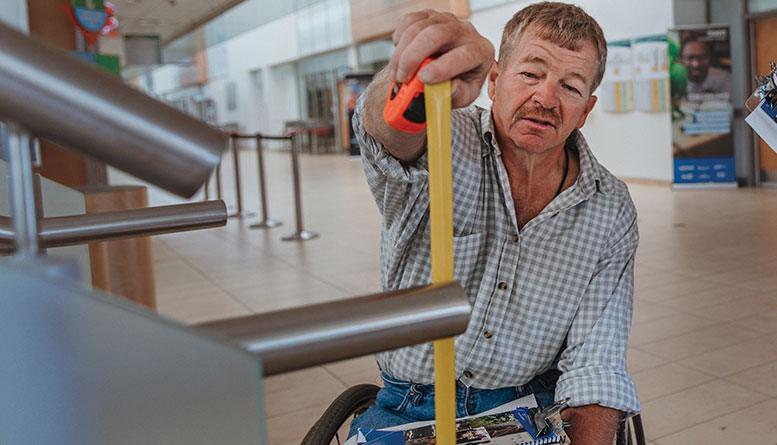 There are many things that Rosalind Penfound is proud of when she thinks back on her time with NSCC. But the one thing that stands out is how the College embraced the concept of accessibility in every sense of the word right from the start.
"People who have disabilities have rights just like everyone else," says the College's former Vice President. "The College understood that and proceeded to create an environment where everybody could not just participate but also excel. When you do that, you have to do less work to accommodate."

That commitment to accessibility has extended beyond simple upgrades to campuses and changes to programs to remove barriers to learning. It led to strategies and dedicated student advisors to engage with learners to meet their specific needs. It also informed upgrades to existing facilities, such as the Ivany Campus, and the development of facilities like the new Marconi Campus, which will open in 2024. And it is evident in the initiatives that the College has undertaken to advance accessibility throughout Nova Scotia. For example, the College is leading the capacity awareness and capacity building project, which is engaging postsecondary institutions province-wide. It also became one of the first educational institutions in Canada to offer the Rick Hansen Foundation Accessibility Certification™ (RHFAC) training program.

"This program creates designated professionals who can assess buildings to see if they meet the Foundation's standard for accessibility," Rosalind says. "The Ivany Campus is Rick Hansen Certified, and the new campus will meet that standard, which is a major achievement."

The College continues to set new standards for accessibility that serve as a model for other postsecondary institutions. Universal Design for Learning training modules are being developed to help faculty and Student Services advisors develop programs and environments that enable all learners to succeed. The College is also creating a multiyear Accessibility Plan, which will enable it to meet provincial legislation requirements to help achieve the goal of an accessible province by 2030. "That effort is being guided by an Accessibility Advisory Committee whose members are all internal NSCC representatives that have self identified as having a disability," says Jill Provoe, Executive Director of the office of Human Rights, Equity and Inclusion. "The building of that plan is very important and transformational for the College, and we expect to submit it to the Province of Nova Scotia in March 2022."

Rosalind is delighted that the College continues to embrace accessibility in the broadest sense, whether it is support for learners who identify as having a disability or students who have faced barriers to education. "It makes the learning experience richer for everyone and contributes to a better society because the people who are exposed to the ethos of accessibility through our programs will take that and apply it in our businesses and communities province-wide," she says.