The business of music
Grad managing multi-platinum artists and getting accolades from biggest names in the biz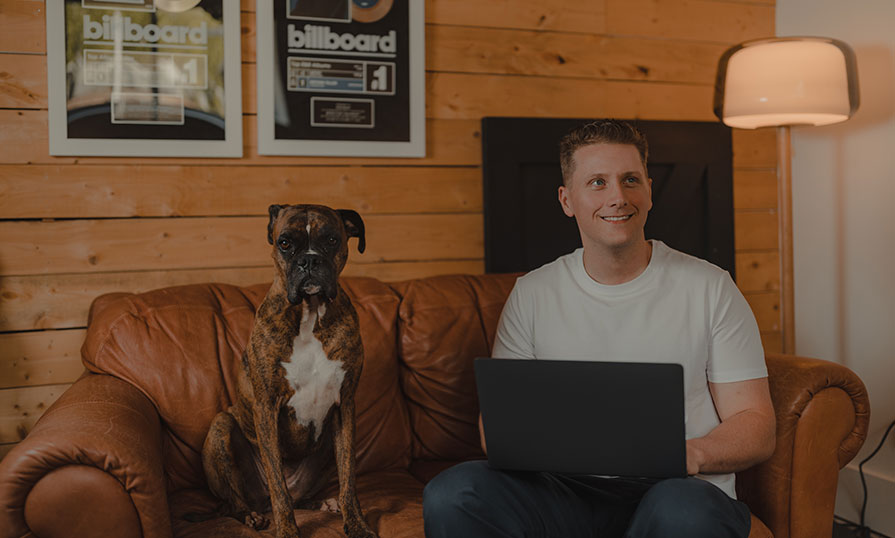 Myke Bulley doesn't see himself as musical, but with multi-platinum, Grammy-nominated artists on his artist roster and the world's best producers, engineers and sound designers using his company's software, the Music Business grad says he feels at home in his career.
"I'd always had a passion for music, but zero musical ability," says Myke, who today is the owner of Bulley Management, an artist management company. He's also the co-founder and chief operating officer of Sauceware Audio, makers of plugins for rap producers. "So, back when I first learned of the Music Business program at Ivany Campus, it was a light bulb moment."
Myke says he'd been looking for something that combined his love of music and management but didn't realize the opportunity existed.
"Suddenly, it was no longer some vague dream," he says. "There was a way to gain entry to the industry. The program gave me a fundamental understanding of the music business and allowed me to dig deeper on the parts that really excited me."
Entering the industry
After graduation, Myke drew on the connections he made through the program's many networking opportunities to land a role at Sonic Entertainment Group in Halifax and then the People's Champ in Toronto. During this time, he honed his skills and confidence in artist management and learned the ins and outs running an entertainment company alongside some industry greats.
"I worked with a bunch of fantastic people who taught me a lot," he says. "It was a dream for someone like me who was new to the business and eager to learn."
He soon began envisioning a boutique artist management company that could compete with the heavy-hitters in New York, London and Los Angeles.
Coming home
In the fall of 2020, as travel restrictions tightened in the face of the pandemic, Myke left Toronto and returned to Nova Scotia ready to make his vision a reality.
"The pandemic gave people a lot of time to reflect and consider what was important," he says. "I knew I wouldn't be happy with myself if I didn't give it a try. I took the leap and officially launched Bulley Management in January 2021."
Bulley Management is dedicated to helping artists navigate the intersection of art and commerce. Clients include Los Angeles-based Mk.gee and Teenage Priest, Toronto-based The Kount, and fellow NSCC grad and music producer Jacob Wilkinson-Smith. Jacob, who goes by My Best Friend Jacob professionally, was a graduate of Recording Arts, now known as Music Production and Engineering.
"There is so much that goes into building a client's career. It includes everything from securing a record deal and being their booking agent to determining tour routing and marketing. We build businesses around each artist."
What sets his company apart, Myke believes, is his approach.
"A lot of people get into this business for the wrong reasons. This isn't about a cheque to me. I'm here through thick and thin. I'm lucky to get to do what I love and work with people I consider family."
Sauceware Audio
An important part of that family is Myke's client My Best Friend Jacob — who is also his partner in a second business venture launched just three months after Bulley Management — Sauceware Audio.
"Jacob is a rap producer who has worked with Travis Scott, The Weeknd, Vince Staples, Bryson Tiller and more. He's also helped Kylie Jenner, Netflix, Nike and Apple with original compositions and sound designs. With all that experience, Myke explains that Jacob saw an opportunity — a hole that could be filled by a company serving the biggest music genre in the world."
Hoping to reach the next wave of rap producers, Jacob and Myke created Sauceware together. Their direct-to-consumer tools allow producers to create new sounds from proven hits in just minutes using straightforward plugins without the need for expensive studio equipment.
"The reception to Scorch and Octave Deluxe has been amazing — at times, a little overwhelming," says Myke, of the plugins, which currently support more than 20,000 creatives globally. "We had very modest expectations as to what this would become; but after a while, Jacob was getting contacted by some of the biggest producers in the world saying they love it."
Dynamic shift
Myke says that the success of Sauceware is likely indicative of the ever-evolving nature of the industry, which was greatly accelerated as the pandemic fundamentally shifted the way people consume music.
"The dynamics of the music industry are shifting so quickly," Myke says. "While much of the job can be done with a cellphone and a laptop, you get from it what you put in, and relationship building is crucial. If you're willing and capable, anything you want to accomplish within this industry is possible."
He adds, "Make the most of it, and really hustle."