Building a future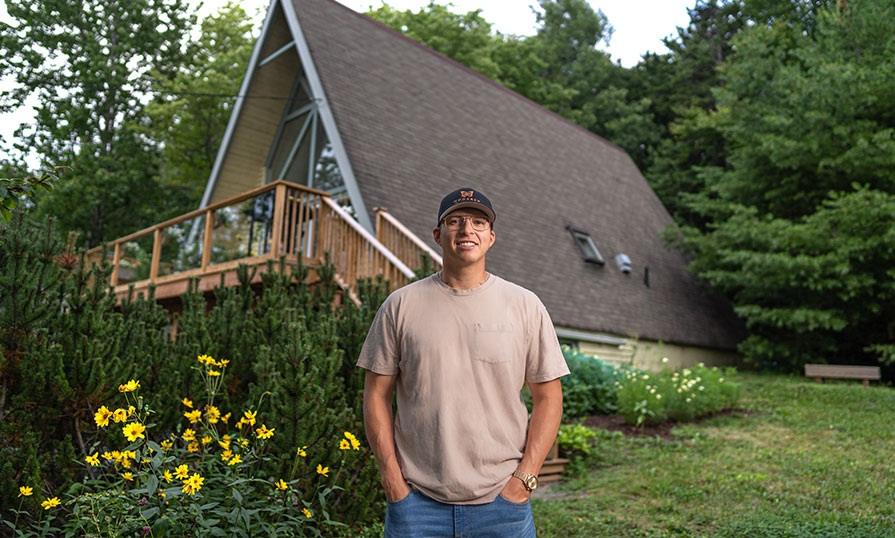 When Jerry Lewis applied to the Carpentry Certificate program at Strait Area Campus's Wagmatcook Learning Centre, his reasoning was simple: proximity. He never dreamed the decision would lead to him owning and renovating multiple event venues popular with brides, Instagram influencers, photographers and musicians alike.
"I first learned about the program when I was in high school," says Jerry. "They said it was going to be available on my reserve and I wouldn't have to travel anywhere to attend."
He adds that the career path was a natural fit for someone who enjoyed staying active and working with his hands. "I think it's rewarding to look at something you've accomplished — creating something from nothing — it brings so much happiness."
After completing his Carpentry Certificate in his community, Jerry attended Marconi Campus to complete a Carpentry Diploma in just one additional year.
"I learned a lot in my certificate program and was able to go out into the field with a great start," he explains. "They taught us hands-on skills like cutting, measuring, using power tools — all things I still use today. Then, in my diploma year, I learned about things like pricing and estimating. These skills have come in so handy for me - this year especially."
Building a career
Working non-stop in his field since graduating, Jerry says renovating wasn't ever something he thought would interest him as a full-time gig. However, when he and his wife Katelyn purchased a 70s-era, a-frame house on Fletcher's Lake in Nova Scotia, there was a lot of renovating to be done.
"We bought the house in 2018 and started renovating it on weekends," says Jerry, who installed a new kitchen, laid flooring, made custom furniture and completed many other projects in the home over six months. "It's such a nice, neutral and unique space and my wife thought it would be the perfect house to Airbnb."
When a photographer friend commented that their finished home would make the perfect photo location, Jerry and Katelyn decided to give the idea a try before getting into the vacation rental market. The A Frame on Fletcher opened for bookings in 2019.
"The daytime photo rentals got busy enough that we decided to stick with it," he says of a setup that allows he and Katelyn to rent the upstairs of their home while they have access to a second apartment on the lower level.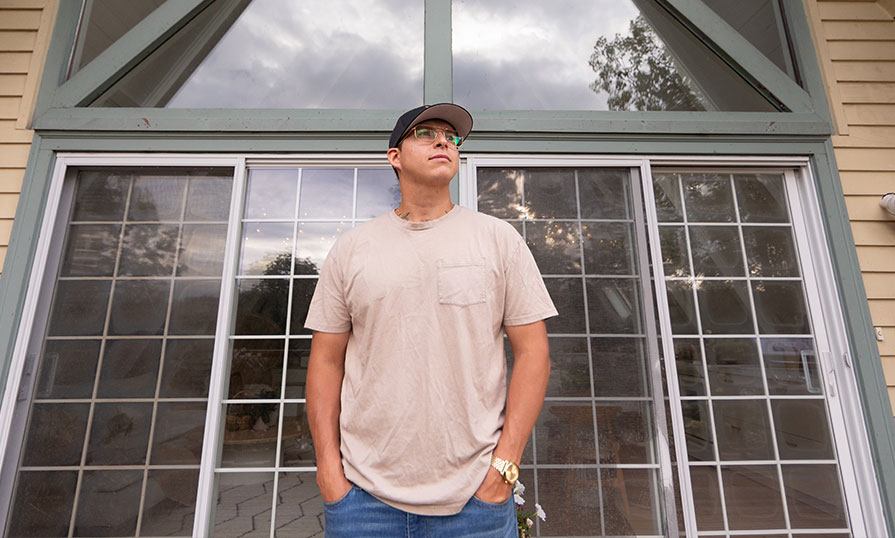 Building a following
Jerry says that the A Frame on Fletcher's clientele is wide-ranging. "Photographers like to bring their clients here for branding shoots and family photo sessions. We have people who shoot music videos and cooking tutorials. We host business meetings too."
Since opening, the venue has caught the eye of over 20,000 followers on Instagram, including some of the most well-known brands, photographers, event planners and social media influencers in Atlantic Canada. The venue welcomes between 1 to 10 groups each day and has hosted hundreds of guests since opening.
In addition to the A-Frame on Fletcher, Jerry has renovated his in-law's rental property — Strawberry Cottage — and begun construction on a second event venue on his property – a breathtaking greenhouse.
"The greenhouse is going to be a place for people to get together to celebrate weddings and birthdays, hold photo shoots, or anything really," he says. "We saw an opportunity to create a wedding venue — something my wife's family has always wanted — and Katelyn has such an interest in gardening and plants. We're all teaming up to make it happen."
Building a new business
In 2022, inspired by all the activity, Jerry partnered with friend Eddy DeBoer to launch their own construction company: Monarch Homes Ltd.
"I've worked for someone since graduating and gained enough experience and knowledge to be able to go out on my own," he says. "I feel it's the right time because there's so much construction happening right now. We have no trouble at all finding work."
In addition to renovations, Jerry and his business partner do new construction, build custom decks and install siding, windows, doors and roofs and much more.
"I want to provide quality work to people in HRM and beyond," says Jerry of his hopes for the future of his fledgling business. "I want to provide myself and my family with a great quality of life."
Looking back on his journey to where he is today, Jerry says that his program gave him the skills he needed to enter the field with a great start. Although he never envisioned the life he's built, he says he's "enjoying every minute of it."