Turning the tides
SEATAC fills gap in ocean innovation ecosystem

Neil Laamanen's brilliant mind is just one of the many resources that small- and medium-sized businesses can draw on to move their ocean-related businesses and innovations forward at SEATAC, NSCC's technology access centre.
"Canada has several of these centres, which open channels between academic institutions and private industry," says Neil of the 60 TACs across Canada, which are funded by the Natural Sciences and Engineering Research Council (NSERC). "However, ours is the only one specializing in the ocean industry."
SEATAC's growing technology-focused team helps clients fill the gap between proof-of-concept and the market for the ocean innovation ecosystem. Neil, who specializes in design and manufacturing, works directly with clients to bring their visions to life.
"Anything can come through the door," he says. "It's a challenge, but I enjoy it. Small, large, machining, bending, metals, plastics, composites, welding, additive. We see them all."
Through the combined capabilities and broad industry connections of NSCC Applied Research and the College's campuses across the province, SEATAC offers a wide variety of value-add and problem-solving services. This includes big data analytics and visualization, communications, topo-bathymetric lidar scanning, drone mapping, consulting and referrals to private sector companies who are well placed to contribute.
"Clients can access everything from high-end manufacturing for one-off prototypes to subject matter experts – the biggest resource of all," says Neil. "It's an empowering model for new development that takes some of the risk out of new ventures for corporations looking to grow."
A complex venture
Recently, Neil tackled a truly game-changing project.
Biome Renewables, a biologically-inspired design and engineering firm based in Toronto, is well-known in the wind power sector. Their PowerCone® technology improves wind turbine performance by 10-13% while reducing vibrations and noise.
When the company's tidal proof-of-concept showed promise in the tanks at Dalhousie University's Aquatron Laboratory, they quickly looked to begin ocean testing in Ireland. Realizing they would require a larger, more robust model of that first tidal PowerCone®, they reached out to NSCC to make their complex project a reality.
"We had to find a manufacturing solution that could operate in the special conditions of the tidal waters," says Neil of the solution. "Strength and saltwater corrosion were paramount considerations. It also had to remain cost effective."
An industry first
Working alongside Biome Renewables' engineers and product developers, Neil used additive manufacturing to design and print two, different-sized, underwater turbine prototypes in 316 stainless steel on the College's Renishaw AM250 3D Metal Printer. One prototype attached to and co-rotated with the existing turbine's rotor and one replaced the rotor entirely.
It was the first time 3D metal printing was used in the tidal sector.
"Our printer uses a 250W laser to fuse metallic powders into finished parts, layer by layer," says Neil. "The layers are very fine – about 0.002 inches. Most of our builds ran continuously for about 100 hours."
In total, the project took two months to complete. In September 2019, the company deployed the two prototypes in Strangford Lough in Northern Ireland.
"One of the biggest challenges in tidal flow is turbulence," says Neil. "The PowerCone® could have a much bigger impact on the tidal realm than it does in wind, because it addresses this challenge in a way that's never been done before."
Testing in Ireland revealed that the tidal PowerCone® prototypes achieved a more economical deployment, a reduction in peak loads and improved power performance as they enabled the turbine to operate at lower speeds in the high turbulence tidal flow.
The company is now assessing next stage of development.
We partnered with NSCC on this project because they had the technology, know-how and deep industry connections needed to bring our vision to life. We were blown-away by the results and are currently assessing the next stage of development.
Ryan Church
Founder and CEO, CTO, Biome Renewables
You may also like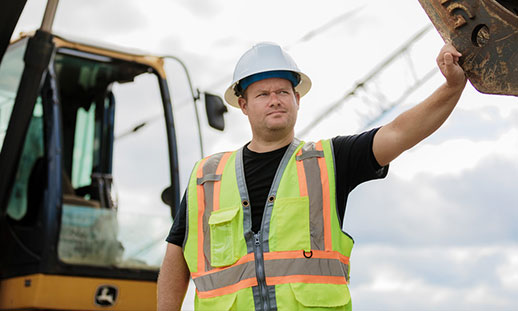 From the ground up
André Rosnok completed his Carpenter apprentice technical training and Red Seal Exam at Marconi Campus. Today, he's leading the team of skilled workers building the campus's new home in Downtown Sydney.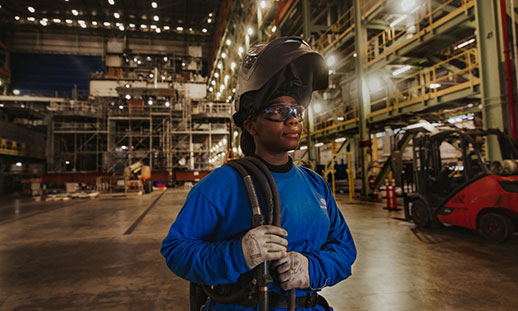 Building a legacy
Antonia Wareham graduated from the first Pathways to Shipbuilding Program, offered in partnership with Women Unlimited in 2015. Today, she's a Journeyperson Welder at the Halifax Shipyard and a mentor to others.