Share your passion

Erin Moore's passion for journalism began at home in Lunenburg, Nova Scotia. As the Radio Television Journalism (RTJ) instructor at NSCC's Ivany Campus, she helps future journalists hone their craft and stokes the fires of inquiry and curiosity in them. She has a degree in journalism from Ryerson University and a Masters in Global Journalism from Örebro University in Sweden. She's a former CBC journalist in Toronto, Halifax and PEI.
How did you become interested in journalism?
My father was a news junkie. He would carry around this old radio and Don Connolly's voice would go from room to room every morning. There were newspapers everywhere and we watched three newscasts every night. At an early age I told him he would watch me on the news someday. So I used to stand in front of a mirror at 9 years old and say "Erin Moore, CBC News, Ottawa." I was one of those annoying kids who knew what I wanted to do from a very early age.
When did you start teaching?
I taught a global issues course at the University of Prince Edward Island in 2009 while I was on maternity leave and discovered I loved teaching. The next year, I had an opportunity to develop a broadcast journalism course at Holland College and that's when I really got the teaching bug. When the job at NSCC came up, I was still working at CBC, but I knew that was the job for me, so I threw my hat in the ring.
What was it about teaching that drew you to that profession?
The connection you make with your students. It's not like you stand in front of a classroom and lecture, telling them how much you know. It's about sharing your passion and learning right along with them. The way news stories are being told is changing all the time and my students and I are experimenting with new technologies together.
If [students] want to put more time into something and commit to something, then I'll do the same. I'll try to meet them there.
Erin Moore
Over the last three years, your class has been working with the community of North Preston, shining a light on the issue of land titles and garnering national and international coverage. Did you expect the work to affect such meaningful change?
It's so much bigger and so much more complex than we ever thought it would be. But it's also been so much more important than we ever thought it would be, in telling the story and talking to people affected by that historic injustice. It's probably been the most impactful learning experience my students have had in the last few years. It's applied learning while doing really meaningful reporting.
When you see that applied learning make a difference? How does that make you feel?
It's almost hard to articulate. I'm incredibly proud of the students. It's not easy when you're just learning about journalism to actually take on responsibility for a story that means so much to so many people. They devote nights and weekends to working on something because they see the importance of it. I see the fire for journalism that burns in them and that makes me hopeful for the future of journalism.
What are your thoughts on the role of journalism today?
Today, there's so much information everywhere, but not necessarily a lot of journalism. So just getting back to the fundamentals of helping people who don't have a voice or a lot of power. Listening to their stories, telling their stories, holding people with power to account. These are important fundamentals that haven't changed. It's important students come out inspired to do important, meaningful storytelling that can change things.
How do you encourage those students who want to go that extra mile?
If they want to put more time into something and commit to something, then I'll do the same. I'll try to meet them there. So, I'll go out with them on shoots on the evenings and weekends. My students aren't 9 to 5 and neither am I.
Do you have anything to add?
Students go through a lot to finish the program and watching them grow and change, not just as journalists, but as people, is really fulfilling. I have the best job in world. I hope they know how much I enjoy being a part of their journey.
Fast Fact
Erin Moore has a degree in journalism from Ryerson and a Masters in Global Journalism from Orebro University in Sweden.
Related Stories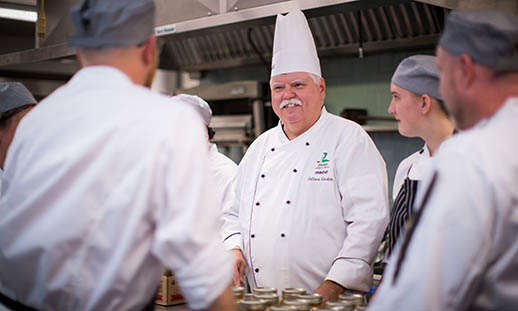 Yes, Chef!
Chef Gilles Godin teaches the next generation of cooks how to keep their skills and their knives sharp.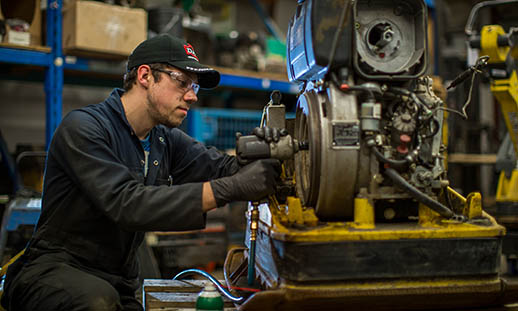 Music to his ears
NSCC grad Tyler Surette found a career as a diesel mechanic that combines his passion and interests.