National research into student homelessness underway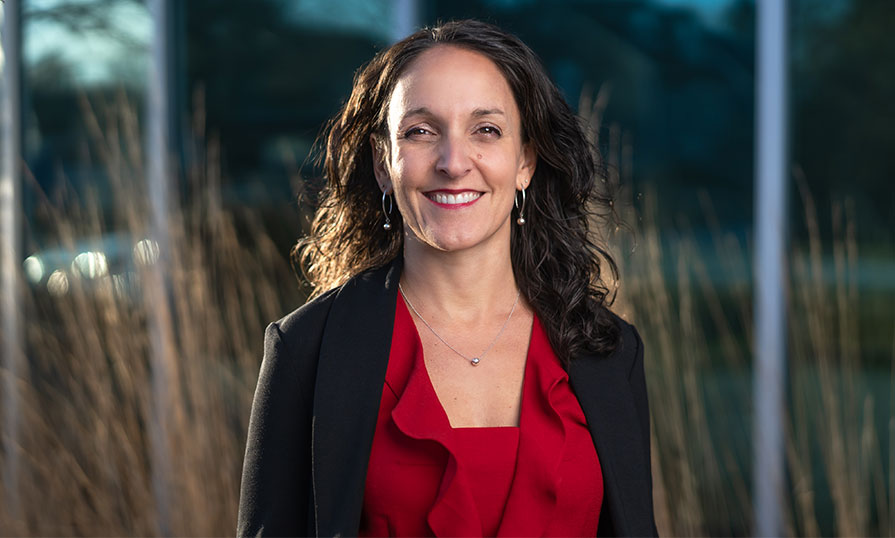 Student Services Counsellor builds on difference-making work through national study
Homelessness is a growing problem for post-secondary students all over Canada. In fact, as many as 100,000 post-secondary students experience some form of homelessness every day.
"This is a real issue for students including those at NSCC," says Lisa Mader, Student Services Counsellor at NSCC's IT Campus. "Unfortunately, because of the stigma associated with the topic, it's difficult to get people to open up, share their ideas and experiences and help address the issue. It's much more pervasive than you may think."
She explains that while schools, governments and other groups want to help, one of the biggest hurdles they all face is gathering information on how to do so. However, because of her extensive work in the area — including prior to joining the College — Lisa has been asked to join an in-depth, national research study on the topic.
Under the guidance of research lead Dr. Eric Weissman, the research team* will conduct confidential, in-depth interviews with students across Canada who have experienced homelessness, have been at-risk of homelessness or are concerned that they could become homeless. The experiences and insights they gather will support a critical examination of the existing housing supports and services available to students at institutions across the country.
If you have experienced homelessness as a student, or have been at-risk of homelessness, please email to schedule a time to chat. For more information on the project please visit pssh.ca. 
What does it mean to be homeless?
Lisa explains that the definition of homelessness is broader than one may expect and is therefore difficult to quantify.
"We typically think of homelessness as not having a roof over our heads, sleeping outside or perhaps staying in a shelter — and that's accurate," says Lisa. "But homelessness can also mean couch surfing or staying with friends out of necessity. Maybe there was a flood, or maybe someone's roommate is dealing with mental health issues and they feel unsafe. Maybe they're living with their parents and suddenly it's precarious at home, or they're in a domestic violence situation. There are many situations that can cause long- and short-term homelessness."
For students, Lisa explains, housing insecurity can negatively impact productivity, mental and physical health and more as the pressures of student life become compounded. This can lead to missed deadlines, lost tuition dollars and even lead students to believe that their only option is to drop out. In the long term, this results in lost productivity in Canada's economies and the cultural wealth of our communities.
"You can't look at a student's overall wellness without considering the social determinants of health — of which safe housing is one — they have a direct impact on health and wellbeing," says Lisa, who worked directly with homeless youth for nearly a decade prior to joining NSCC. "As a counsellor, if you have someone show up in your office without a roof over their head or they're hungry, it's nearly impossible to address the other things they may need academically or otherwise."
Here at home, Lisa adds, Nova Scotia's housing market and the lasting impacts of the COVID-19 pandemic have made things even worse.
Metro Emergency Housing Program
In 2019, as part of an in-depth professional development program for College staff, Lisa designed and piloted a program that provided short-term housing to Akerley, Ivany, IT and eCampus students whose personal safety was at risk.
"Safe housing is essential for student success and mental wellness," Mader says. "Although we have great shelters throughout the municipality, none of them are quite geared to meet the needs of post-secondary students who are experiencing anxiety and uncertainty about their living conditions. It's truly a passion for me. I wanted to create a program to fill that gap and started looking for ways to make that happen."
Nathan Swider, an NSCC graduate and one of the first participants in the Metro Emergency Housing Program, told University Affairs Magazine that, "Had I not had that safe housing, my whole academic career and my life would have ended."
The program continues today.
Applicants are assessed by NSCC Student Services counsellors based on a range of criteria including current living conditions, finances and whether they have friends or family they can stay with. If approved, the costs associated with the program are funded by NSCC Foundation and its generous donors, which include the metro student associations. They're also connected with a Student Services Counsellor, such as Lisa, who can support them during the tumultuous time.
"Once they're selected, we're able to offer them a range of housing options — like a one-bedroom apartment that can house up to two adults and two children, hotel rooms in Dartmouth or Halifax and housing at post-secondaries across the city. We can also provide food and transportation assistance, among other things."
Lisa adds, "They sign an agreement that they will develop a plan for more permanent housing, and they have access to support from their campus to help them in those efforts. The goal is to have something arranged within one month of starting the program. If not, we work with them to find a solution."
In addition to housing, NSCC students can access supports such as counselling, emergency funds, budgeting assistance and tutoring (for instance), which are available to all NSCC students, regardless of whether they're participating in the Metro Emergency Housing Program or not.
"The food, shelter and emotional support we offer through this program helps keep students on track to finish their training and start successful careers," says Lisa. "Seeing how people have embraced it – both at the College and in the community – has been very encouraging, and that gives me more energy and drive to do what I do every day."
Work is now underway at the NSCC Foundation to raise the funds required to expand the Metro Emergency Housing Program to all NSCC campuses. If you would like to support this fund or find out more, please contact or at NSCC Foundation.
* Post-secondary Student Homeless/Housing Research Network Team
University of New Brunswick Saint John
Nova Scotia Community College
Red Deer Polytechnic
University of Alberta
University of Calgary
University of Northern British Columbia