Plumbing graduate proud to represent women in trades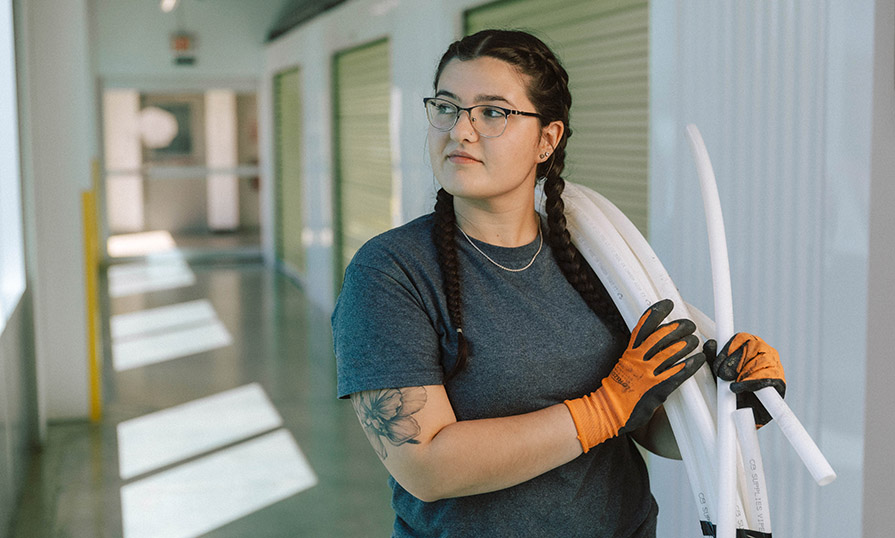 Ask Taylor O'Hearn how her dreams of a career in trades have taken shape at the young age of 20 and she'll credit her aunt Christy – a welder by trade – for leading by example and being her biggest cheerleader. Taylor now aims to be the same positive force for other women and girls interested in pursuing trades.
An NSCC Plumbing graduate from Mount Uniacke, Taylor works full-time at GoPro Plumbers in Bedford and plans on earning her Red Seal next. On finding a meaningful career at such a young age, Taylor says, "This is where I belong. I'm exactly where I was always meant to be."
An early start
As a child, Taylor looked up to her father and uncle, both in construction. She was often called on to help with odd jobs and got a taste of what hands-on work was like at an early age. But it was her aunt who really inspired her. Taylor explains, "My aunt is small but mighty like me. She's always pushed me to 'Get out there and show them what you're made of!' She told me I was special. She told me to try my hardest. Her drive and encouragement really helped me to push forward."
Taylor always knew she wanted to work with her hands and liked problem solving, but it wasn't until university and college representatives came to her high school that she found her calling. "NSCC told me about women in trades and all the opportunities available to me. I liked talking to them so much that I didn't even bother learning about other schools." Taylor explored NSCC programs online and decided the Plumbing program at NSCC felt like the right step.
The right fit
Two years later, Taylor reflects on her learning experience.

"My program was blended, which means some of it was in person at IT Campus and some was online. It also included a work placement, so I reached out to GoPro Plumbers to see if they'd take me on. I learned a lot during my placement; once it was complete, they offered me a paying job as a registered apprentice so I could continue to learn and grow with them. I'm the first female employee they've ever had."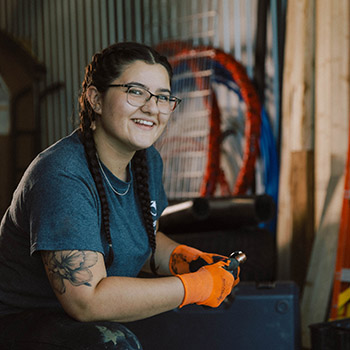 "We all get along really well," says Taylor. "We have nicknames for each other, and we talk and laugh all day while we're working. Sometimes I meet people on jobsites who underestimate me or have old fashioned ideas about what women can and can't do, but I have no problem proving myself and I know my boss and team have my back."
A supportive employer
Matt Gore, Owner of GoPro Plumbers and NSCC Plumbing alum, says of his experience working with Taylor, "She's wonderful – hard-working, dependable and fun with a really good attitude."
After hiring Taylor, Matt learned about an incentive program through the Nova Scotia Apprenticeship Agency's (NSAA) Women in Construction pilot program. He took a 6-hour workshop developed for the program called "Mentoring Women in Trade through Awareness and Understanding" and says he learned a lot. "I was shocked to hear that only 5% of people working in trades are women. The workshop really opened my eyes to employing women, such as considering things like making sure they have a place where they're comfortable changing clothes if needed. That would never have occurred to me, but it's important."
"I want to do what I can to create opportunities for women in trades, and I'd hire NSCC grads again and again," says Matt. "As the father of a 6-year-old daughter, I agree representation is important and I can see how proud Taylor is to be a trailblazer for other women. I'd absolutely support my daughter if she wanted to pursue a career in trades."
A meaningful experience
Taylor's class was 50/50 men and women, which she feels is a positive sign of the future of trades. "Think about what it means to a young girl driving by a jobsite and seeing women at work. If you don't see yourself represented, how can you understand that it's an option for you? I want to be that representation, like my aunt was for me."
When she started her program at 18 years old, Taylor couldn't always relate to what classmates with partners and children were going through, but she says that didn't stop her from forming close friendships. "When it came to making friends, it was important to remember that we were all there for the same reason – to succeed. Although we had different life experiences, we could relate because we were all passionate about being there."
Says Taylor of NSCC faculty, "My instructors – especially Bruce Piercy – were amazing. In high school we were told that teachers weren't going to be as attentive in college or university, so I was surprised by how involved Bruce was. He was caring, understanding, patient and genuinely wanted to see us succeed."
Advice for future trades students
"Go for it! NSCC is a great option because there are so many trades programs and it's budget friendly. You don't have to graduate in a pile of debt and the programs are short so you can begin your career more quickly.

I was nervous at first – 18 years old and shy – but it was such a supportive environment that my fear went away in a couple of days. Everyone at NSCC wants to help you succeed and be the best you that you can be."