A day in the life: Sharon Ribi Olal
Get to know Ribi, a business administration student
Name: Sharon Ribi Olal
Program: Business Administration
NSCC Campus: Ivany
Class of: 2023
Why did you choose your program?
I have always been interested in starting a business and therefore looked toward learning more about business management. NSCC offered a selection on courses that I felt aligned with my goal and didn't require me to study four years for an accreditation, something I did not want to do. It was just the right fit for my needs!

What do you plan to do when you graduate?
I would like to get some industry experience before actively pursuing the entrepreneurial route (if it comes earlier though, I will go the entrepreneurial way!).

What's something that has surprised you about NSCC?
The diversity. I wholly expected little to no diversity in the classroom, but I was pleasantly surprised with the range of individuals in all my classes. There are individuals from different continents, ages, genders, and abilities, and all of them have some form of accommodation and support on campus.

What has been your most memorable NSCC moment so far?
I honestly cannot pick one specific moment. I feel like it is more of a blanket of little amazing moments such as sharing lunches with my classmates, volunteering with other students, using Kahoot and Legos in class, building my own database, and playing a campus-wide goose chase!

What do you love most about your program?
I love that my program allows me the flexibility to choose the path that I feel most comfortable with or the one I envision a future for myself in.

What advice would you give to a friend considering NSCC/your program?
Jump on as many opportunities as you can that align with what you want to do. If you are not sure on what you want to do though, jump on the opportunities that pique your interest. There are a lot of doors to be explored with the Business Administration program - open as many as you can and have fun while doing it!
A day in the life
Morning
6:55 am - Get ready for the day and take the bus to school from Halifax.

8:15 am - Arrive at NSCC Ivany Campus and get ready for class. Get a cup of coffee, settle down in class.

8:30 am - Start first class of the day: Human Resources. A quick review of the last four chapters covered in class in preparation for the upcoming quiz. Class does not take the full two hours and I have some lag time before my next class.

10:30 am - Meet up with team members for group discussion. We have a working class, so we are preparing a script for a cold call to sell financial services to a fitness centre owner. There are further restrictions in the assignment instructions. We also have to do a video simulation for the call after planning it.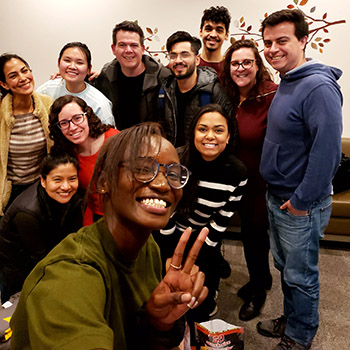 Afternoon
12 pm - I head into the Student Association offices. I am the VP Communications, so I respond to a few emails that came in for the association and answer some questions that came in on Instagram.

12:30 pm - Every Thursday, I participate in Enactus activities as a co-curricular activity. Enactus is an international organization that aims to connect students and business leaders through entrepreneurial projects that promote sustainable development in their communities. We discuss our current project and plan our next steps.

2:30 pm - I meet up with my group for another project planning session. For this, we work on our Community Leadership and Service Learning project. We are working to create a business model for a social entrepreneurship that aims to promote food security in East Preston. We're doing this by partnering with youth at the East Preston Community Center and The Deanery Project to build garden boxes. We will offer classes to the youth on how to build the garden boxes for both sale and use, and how to plant and pickle some vegetables.

4 pm - I get some homework done in the Atrium/ Library Commons because we finished our discussion earlier that I expected. I do some write-ups for my other classes and update my calendar to reflect what has been done and what needs to be done (in order of urgency!).

4:30 pm - I walk 10 mins to the Woodside Ferry Terminal and head home to Halifax.
Evening
6 pm - Arrive home, say hello to my cats and do some pending Student Association work. I schedule an email that is to go out to all students for upcoming activities and supports. We have all sorts of events organized by other VPs, students and staff, and I am tasked with making sure the information for these events is distributed to all students on campus - both via email and social media. Sometimes I do homework, but today I got most of it done in school.

7 pm - I start preparing my supper. Today it is rice and pinto beans (I love beans)! A lot of dancing and off-key singing is involved in this process, the cats enjoy it too…I think…

8 pm - Feed the cats and I eat my supper while watching TV. Family Guy is my go-to cartoon for mindless distraction. By this time of day I need a mental break and watching cartoons before bed helps me clear my mind from all the projects done in the day. It is a weird sort of meditation for me.

9 pm - I do my ablutions and snuggle up for bed! Early to bed, early to rise. 😊