Reaching new heights

At the heart of Whitney Pier's Polish community, a broken bell, bits of stained glass and a few pages of hymns were all that remained of St. Mary's Polish Church when it was destroyed in a fire in October 2014. When it was time to rebuild, Marconi Campus Metal Fabrication students and faculty rose to the challenge to design and construct what has become a shining beacon in Whitney Pier: the steeple cross.
Graham Tourneur, a former blacksmith and 2016 Metal Fabrication graduate, was contacted first by the parish and Roclan Construction with the idea.
"I thought it would be a great community outreach project for students of the Metal Fabrication program at Marconi Campus," he says. "As a second-year student in the program, I knew our class was more than capable of producing a quality piece."
They're not only people with technical skills and industry experience, but are good, generous leaders in the community.
Tom Urbaniak
Chair, St. Mary's Polish Church
Having grown up in Whitney Pier, Metal Fabrication faculty member Gary Cameron says he was happy to help. "The community is small, and money is tight," says Gary. "Everyone knows NSCC and what we stand for. After all, our learners are members of the community."
Designing and constructing a cross is no small feat. The project was unique to the Marconi metal fabrication shop. Five prototypes were created before the final design was agreed upon by the parish. They were constructed with stainless steel and placed securely atop the new 75-foot-high steeple.
On a cold morning in February 2016, residents of Whitney Pier gathered around the newly-built church to watch the students and construction crew hoist and secure the cross on the steeple. "It was quite a sight," says Tom Urbaniak, chair of St. Mary's Polish Parish. "It was a work of great skill, but it also had an emotional component. They're not only people with technical skills and industry experience, but are good, generous leaders in the community."
Visible from all over Whitney Pier, the new cross is a lasting symbol the metal fabrication students will have to remind them of their commitment to the community. "Pride in the work is the biggest thing for tradespeople in any sector. More pride, more employment," says Gary. "Fifty years from now, they can say, 'I built that!' It's a good legacy for them."
Graham, now employed in his field, carries that pride with him. "That day, the cross was not only a religious symbol, but one of community perseverance and cooperation."
He adds, "I have been blessed with years of good instruction in metal working and have had lots of help along the way. It feels good to be able to help someone else."
Fast Fact
The six-foot tall cross at St. Mary's Polish Church is made of stainless steel, weighs 150 pounds and sits on top of a 75-foot steeple.
Related Stories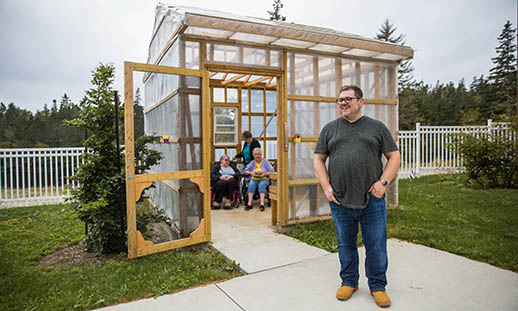 Community crops
NSCC Social Services student leads greenhouse build for retirement home.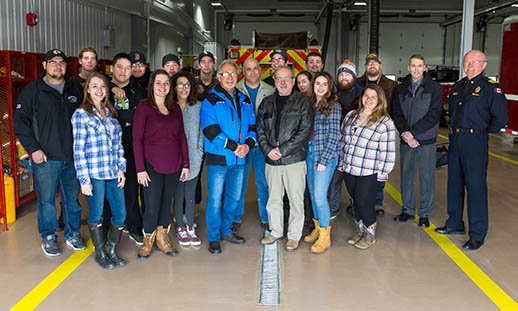 Students build lockers for Sydney fire station
NSCC Marconi Campus students partner with industry for hands-on-learning project.