A real community build

Seeking out opportunities to help the local community, while developing a sense of civic-mindedness in his students, is of the utmost importance to Jim Swayne, carpentry instructor at NSCC Marconi Campus.
Over the last four years, Jim and his students have contributed to carpentry projects that have made a major impact in a number of areas: nurturing Cape Breton's ailing brown bat population; granting wishes to children with terminal illnesses; assisting with the reforestation of the Cape Breton Highlands National Park; and supporting the Atlantic Burn Camp.
"These projects give students a sense of pride in knowing that they're giving back to their communities," says Jim. "Hopefully it's also reinforcing the importance of establishing community connections and 'stepping up' to make a difference where possible."
The goal for the coming years is to keep on doing what we're currently doing: teaching carpentry skills to students; and, when possible, helping our neighbours along the way.
Jim Swayne
Carpentry Instructor
NSCC Marconi Campus
Stepping up
Like many of the projects Swayne and his students take on, the most recent undertaking was a result of many community organizations coming together to make a difference.
For several years, the Sydney Sunrise Rotary Club has supported the New Dawn Guest Home for persons with physical and intellectual disabilities. As the Rotary's Community Service Committee project-of-choice, the Rotarians continually seek out opportunities to bring joy to the lives of residents.
"The New Dawn Home is located on the radar base. The building is great, but there's really nothing outside for the residents," says Linda Crockett, Sydney Sunrise Rotary Club, project coordinator. "We wanted to give them a place to sit and enjoy the weather and spend some time in the sunshine. NSCC was my first call."
Jim says the call from Crockett was timely.
"When Linda contacted us to see if we could provide assistance with the build, it couldn't have come at a better time," says Jim. "At that point, my students were working on roofing and exterior finish." As community-based projects must align with the curriculum, the gazebo offered students both a learning and difference-making opportunity.
The final result
Local company Gillis Building Supplies also joined in and delivered the finished gazebo to New Dawn Home, saving the Rotary Club on delivery costs. The sturdy, wooden structure was installed at New Dawn Home in early November, and has been a welcome addition."
"We are very thankful for all who participated in making this project possible," says Linda MacDougall, administrator, guest home and home living, New Dawn Home. "For our residents—some who are visually impaired—functions outside during warmer weather meant gathering under our front entrance, which is not large enough to accommodate everyone. The gazebo will not only help with that, it will encourage residents to become more independent and spend more time outdoors."
Linda Crockett says that the project worked out better than she could have planned, and credits the students at NSCC. "The thing that pleased me the most through this whole thing was that the students were as thrilled to work on this project as we were to have them. It worked out beautifully."
Fast Fact
All NSCC programs combine classroom learning with learning on the job. Graduation—from the majority of programs—is dependent on the successful completion of a practical learning component such as a service learning project.
Related Stories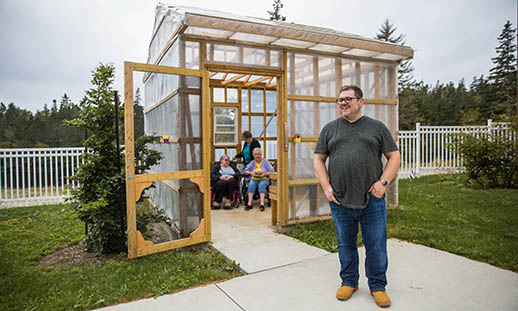 Community crops
NSCC Social Services student leads greenhouse build for retirement home.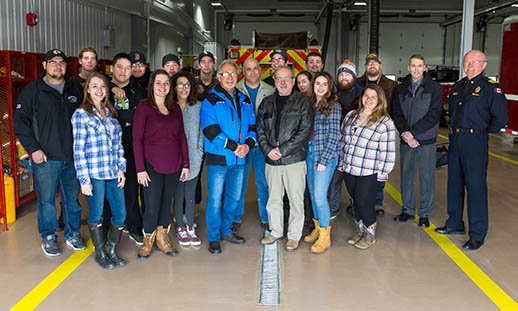 Students build lockers for Sydney fire station
NSCC Marconi Campus students partner with industry for hands-on-learning project.