Student touched by donor generosity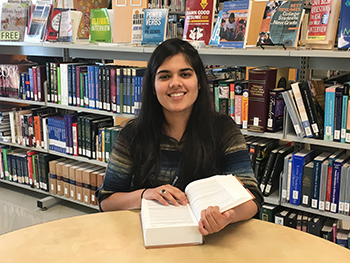 Bragg Family Access to Opportunities Bursary
Disha Jaggi has a message for the donor behind the bursary that is supporting her in her Paralegal Services studies at NSCC Cumberland Campus.
"I promise to work really hard and make your investment in my education worth it.  I am humbled and can't express in words how grateful I am to the Bragg Family for receiving this award," says the recipient of the Bragg Family Access to Opportunities Bursary.
Disha completed one year of law school in her native India before deciding that wasn't the right path. Still, she liked the field and, with a sister in Ontario, decided to come to NSCC as an international student. She's thankful for the bursary she received, and also for Make Way – The Campaign for NSCC.
"I am so touched by the efforts that are being put in to help students towards their education," she says. "Coming to NSCC has been one of the best decisions of my life."
And she hopes to stay in Nova Scotia after graduating: "I'm absolutely in love with the scenic beauty and the warmth of Maritimers!"