Celebrating the generosity of donors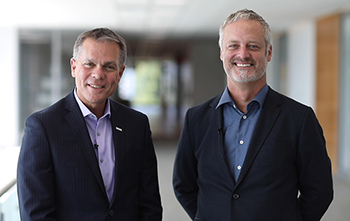 You stepped up. You answered the call.
You have embraced Nova Scotia Community College, and in doing so, you are changing lives for students on their NSCC journey.
In 2014, we set out to raise $25 million to help students through financial aid, innovative programming, instructional equipment and centres of expertise. The goal was to improve access to NSCC and open doors so that even more people would have a chance at a transformative education.
We reached out to all of you: business leaders, industry partners, and community members in every corner of our province.
Your generosity resulted in a remarkable $33,097,542 million raised to support students – helping address very real financial issues but also giving them the confidence to achieve their dreams.
These funds are already helping NSCC students at campuses across Nova Scotia and improving Nova Scotia's economy and quality of life in the process.
We are so humbled that you rallied to the cause and invested in our students, and excited by the relationships that have been created and strengthened as a result. For more on the difference you've made, read our Make Way Impact Report.
You inspire us. Thank you.
Don Bureaux, NSCC President
Rob Sobey, Make Way Chair