Foodie gets bursary boost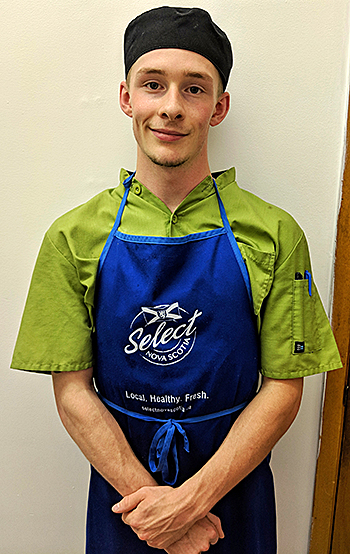 The Sobey Foundation Culinary Award
Carl Gardner was at work in the kitchen of The Telegraph House in Baddeck when he got word that he'd received the Sobey Foundation Culinary Award.
"I started dancing in the parking lot – I was all smiles! I knew it would have a massive impact," says the Sydney Mines native. It's one of six bursaries presented annually to students in culinary programs across six NSCC campuses.
Now immersed in his Culinary Management studies at Akerley Campus, Carl was inspired by the restaurant's chef during his years there.
"His attention to ingredients, the way he built up the community around him by supporting local farmers and producers, that's what really sparked my passion for cooking," he says.
He chose to attend NSCC to build on his skill set, learn tutoring skills, and network with peers and industry veterans on his path to becoming a Red Seal-certified chef in the next six years.
Receiving the Sobey Foundation Culinary Award has moved Carl's career dreams closer.
"I love to travel, and I would love to work summers in Cape Breton at The Telegraph House and spend winters in British Columbia – in Kelowna or at a ski resort," he says.