NSCC students help Make Way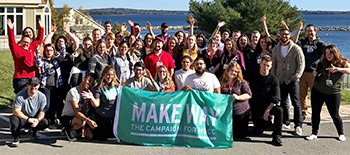 Students supporting students
As they make their way to classrooms, labs and shops across Nova Scotia each day, NSCC students are aware of the obstacles faced by many of their peers.

They witness – up close and personal – the barriers faced by fellow students on their educational journey. Many of these struggles relate to finances.

That's why, in a generous move that will leave a lasting legacy, NSCC students at 13 campuses across the province decided recently to support student success through Make Way.

Facilitated by student leaders during the past year, the gift – $500,000 over five years beginning in 2017-2018 – will support students on each campus, with funds raised locally staying local.

"The fact that students are passionate about helping other students motivated the gift to Make Way," says Isabella Graves, former Student Association President (Early Childhood Education, Class of 2017, Marconi Campus).

"I think it is an incredibly powerful message. Not only are we helping advance the priorities of the Campaign – through financial aid to fellow students – but we are also making it clear to others that this is a meaningful and worthwhile initiative. It shows that NSCC students are committed to making a difference, on campus and in their communities."