Donor believes in community impact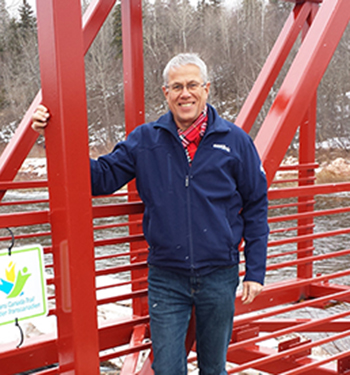 David Hoffman believes in supporting his community, and he's clear on his reasons for investing time and resources at NSCC's Cumberland Campus.
"The campus provides some of the fundamental infrastructure we need for the community to stay strong," says the Co-CEO of Oxford Frozen Foods Limited and the Bragg Group of Companies.
"It creates the skilled workforce that we as a thriving region need, and it keeps people at home in their local communities. And in rural Nova Scotia, that's really important because we need our young people to stay here to help sustain and build our communities for the future."
Gift supports bursaries and urgent aid
A longtime volunteer with NSCC provincially, David was an inaugural member of the NSCC Foundation and chaired it for several years in its early days. He has maintained his connection with the College and is a member of the Provincial Campaign Advisory Team for Make Way – The Campaign for NSCC and Chair of the Cumberland Campus Community Fundraising Committee.
Beyond his time commitment, David has donated $25,000 to the Cumberland Campus campaign and has a matching contribution of $50,000 with NSCC's Board of Governors and the NSCC Foundation's Board of Directors. His gift to the local Campaign supports bursaries and Urgent Aid.
"Some students are really struggling financially, whether it's transportation, books or buying groceries. They are sacrificing so much to come to school, but at the same time they recognize the need to invest in their own futures. I admire this determination, and I wanted to see that their lives are made a little easier and the financial strain is eased somewhat," he says.