Q & A with Linda and Jim Ross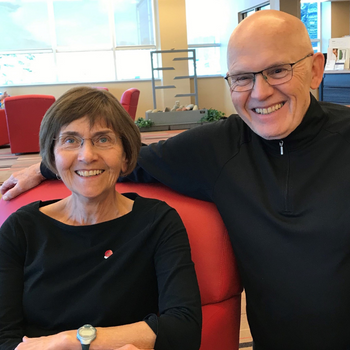 Alumni Donors
Linda and Jim Ross both attended the Nova Scotia Land Survey Institute, one of NSCC's predecessor schools- where they first met.

Frank Lockington sat down with the pair to talk to them about NSCC and what they've been up to since they graduated.

Q: How did you become connected to NSCC?

J: We both graduated from Cartography at the Nova Scotia Land Survey Institute (now COGS) in Lawrencetown in 1974. I re-assumed my connection with NSCC after retirement when I was asked to teach biology and Aquatic Environments in the Water Resources program at the Waterfront Campus of NSCC in Dartmouth.

L: I went directly from high school and chose the Cartography program because it was 'different and non-traditional.'

Q: You've both been generous in your support of NSCC. What inspires you to include NSCC among your philanthropic priorities?

J&L: We both value education and have seen firsthand the benefits of an NSCC education. We hope that our involvement will help make the road a little smoother.

In consultation with our financial advisors, we were made aware of the benefits of planned giving. Initially, it did take some thought and preparation, but it gives us the opportunity to give a gift to a cause we truly believe in. Both of us would urge others to consider a bequest as part of estate planning.

Q: Do you have any words of wisdom for those about to graduate from NSCC?

J: I think it is necessary to acquire a good solid work ethic early in your career, to continue lifelong learning and to do good work.

L: At the time, it [the industry] was very male-dominated and only a few women had graduated from the school. There was a great sense of accomplishment in succeeding and perhaps breaking down a few barriers.