Archy Beals Legacy Award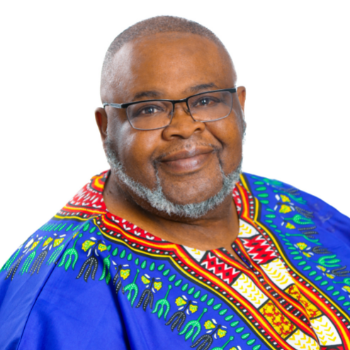 Honouring his legacy
Archy Beals (CCEDP '99) was elated and humbled when he discovered that an award had been created to honour his legacy. "I was very thankful that my colleagues thought that much of the work that I have done at the College to establish such an award. It makes my heart feel good to know that an award has been established in my honour to assist African Canadian learners financially on their educational journey," says Archy.
Deanna Mohamed and Barbara Roberts, colleagues of Archy who work at the Pictou Campus and Digby Learning Centre, respectively, created the award to honour Archy's 27 years of service at the College. "We wanted something extra special to focus on in our work in 2022. This helps create the change we wanted to see regarding African Canadian students having more access to financial opportunities at the College; it also honours our incredible colleague who has been a great mentor and close friend to both of us both at NSCC," says Deanna.
The funds raised will support students of African descent who have graduated from a Nova Scotia high school and who study in any program at any NSCC campus. The funds will help with costs for tuition, books, and any additional fees.
27 years of service at NSCC
Archy, who is also a graduate of Dalhousie University and MSVU, worked as a Regional Educator for the Black Learners Advisory Committee before joining NSCC in 1995. He has served most recently as a Student Services Advisor, African Canadian Supports. "When I started working at the College, my role was specifically working with the African Canadian students at the Akerley and Adult Vocational Training Campuses in Dartmouth. Since then, I have worked at every campus across the College, providing services and resources to all students, faculty, and staff."
For Archy, one of the most important reasons he stayed for nearly three decades is the knowledge that he has been giving back to his community. "Community has and continues to be a big part of my life," he says. "Knowing I could assist and provide services to our African Canadian learners has been very rewarding."
As a Student Services Advisor, Archy has been enthusiastic about his role in assisting students to succeed in their field of study – all the way to helping them find employment. "I am also passionate about equity, diversity and inclusion," he says. "Inclusion in the sense of the organizational change and not the individual changing."
Ubuntu – I am because we are!
Archy is very involved with the African Nova Scotian communities and has worked within the province's 52 historic African Nova Scotian communities. "I would not be who I am today if it was not for the community, so I always make it a point to make sure that whatever I do in life will benefit others in the community."
He is currently involved with the Health Association of African Canadians (HAAC), the Association of Black Social Workers (ABSW), the Provincial Advisory Council on Education and the Dartmouth East Education Committee. Archy also served as a board member and employee of the Black United Front, a board member of the Council on African Canadian Education, and several positions with the African United Baptist Association.
Archy's involvement in the community has not gone unnoticed. Under his leadership, the Preston Township Emergency Response Team received the 2020 Nova Scotia Human Rights Award for its work. The response team – established in March 2020 by Arts, Community, Culture, Economics (ACCE) – was mobilized due to the spread of COVID-19 – to focus on promotions with residents within the Preston Township. Partnering with the Association of Black Social Workers and the Health Association of African Canadians, the team worked closely with ABSW, HAAC and Nova Scotia Public Health to ensure culturally-specific literature, resources, and services were available to the community. "We were able to provide testing and immunizations – with the mobile testing van even going door to door to test and immunize residents," explains Archy.
Be part of a legacy
After almost three decades, Archy is retiring from the College (Aug. 1). He is looking forward to someone else picking up the torch to continue his work. While he might be directing his attention beyond NSCC in the future, his focus on building a more equitable community will no doubt continue – building on his incredible foundation.
Barbara and Deanna are working with African Nova Scotian Senior Leaders in the College and the NSCC Foundation to have an official launch event of the Archy Beals Legacy award in the fall. The goal is to raise enough funds to offer five awards for African Canadian students annually across the various regions of the province.
Want to be part of continuing the Archy legacy? Please consider donating to the Archy Beals Legacy Award.