Product development projects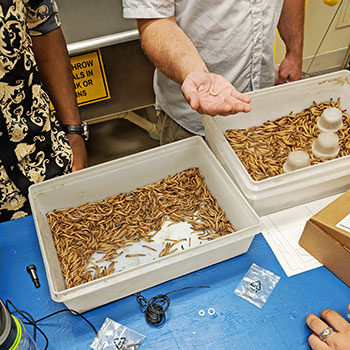 Superworm sorting machine
The Engineered Technologies Applied Research Lab (ETARL) is in the final stages of developing a sorting-machine prototype for a local worm farming operation. Orchestra Farms raises mealworms and superworms to sell as food for reptiles and other small pets. The superworms will only pupate and reproduce if they are separated from other larvae. This requires the superworms to be placed individually in little cups.
Currently, the superworms are sifted from the dirt using a grated shaking tool and put into buckets. The worms are then placed into individual cups by hand and the cups are stored in stacks of trays. To increase efficiency and eliminate the tedious process of separating the worms by hand, the ETARL is working to automate the individual cupping process and then sort the worms by weight. The weight of the worm indicates whether the worm is viable to be used in the pet food.
Although there are other automation processes on the market, the ETARL is designing a customized solution that solves the specific problem without going over budget. The ETARL designed and built a shaker table to separate the worms, including a scale to weigh them, a sweeper that sweeps the worm according to size, an automated cup dispenser, and a conveyor to complete the process.
Design feasibility for sustainable lobster bait
Sea Star Seafoods is the largest processor and exporter of salted fish in Nova Scotia. Principal markets include North America, South America and Europe. The business operates on a year round basis, processing both Canadian and imported raw material.
In the course of its salt fish processing activity, Sea Star processes mackerel and generates by-product streams which are used to make lobster bait. The lobster bait product is retained as frozen bulk product and sold in this format to regional lobster fishers. Despite the performance of mackerel bait, the wild fishery for mackerel and other bait species is under increasing strain. The use of human food species for lobster bait is on the rise and is causing sustainable development concerns. Sea Star has partnered with ETARL to address these issues and improve their product's performance, construction, and productivity.
The project will help optimize lobster bait, which represents a significant and growing business need in Canada. In an effort to increase overall quality and productivity in the region, there's also an opportunity for research results to apply to and benefit other fishers.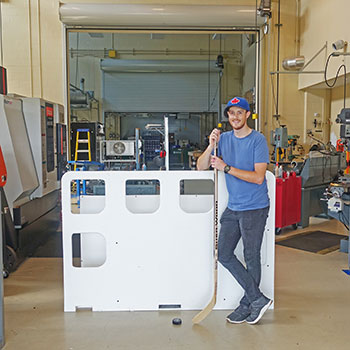 Hockey training device
The ETARL has collaborated with an individual entrepreneur to design and build a hockey-training device. The concept is a training unit for hockey players to enhance their shooting skills. The design is one unit consisting of multiple functional components incorporated into an existing hockey net. The product development is ongoing.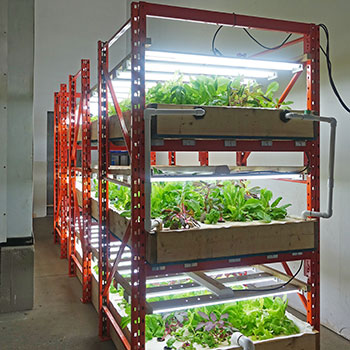 Commercial-scale aquaponics – validating design and economics
Population rise, climate change, water scarcity, and food security are among the most important challenges the world currently faces. Aquaponics is a closed loop, zero-waste system consisting of hydroponics and aquaculture elements. It provides sustainable food production to address these problems. In aquaponics systems, nutrient rich water is circulated from a fish tank(s) to vegetable grow beds. Vegetables act as a filter by using nutrients from the fish waste feces, which purifies the water before it is recirculated to the fish tank. This results in both water saving aquaculture technology and soil saving agricultural technology.
Backyard aquaponics has become more common in recent years to supply vegetables and fish for household consumption, however, the economic feasibility of commercial scale operations is still unclear. There is lack of quantitative data to support the development of economically feasible, commercial-scale aquaponics systems.
Nova Aquaponics is a clean-tech company focused on developing and commercializing sustainable solutions for the food industry. The company has developed a prototype of commercial-scale aquaponics system, the AP-200. With NSCC's support and collaboration with Acadia University, the company is improving its ability to provide equipment that is capable to meet the water quality, environmental, and economic challenges. The ETARL is assisting in conducting market research activity to inform design and validate product viability, organize the regulatory compliance steps, and map out a financing strategy.