Bio-medical projects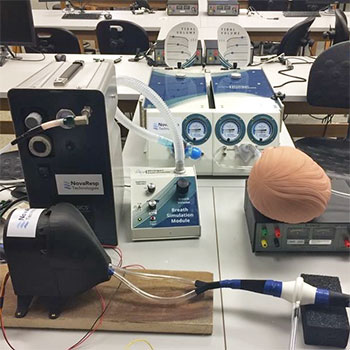 BreatheAlong functionality evaluation
Engineered Technologies Applied Research Lab (ETARL) worked with NovaResp, a company specializing in developing breathing-assist medical devices, to evaluate the design and function of the BreatheAlong. The BreatheAlong is an add-on device that retrofits Continuous-Positive-Airway-Pressure (CPAP) machines for patients with sleep apnea.
Sleep apnea is a breathing disorder that causes a person to skip breaths while sleeping, resulting in low oxygen levels in the body and brain. Breathing assistance devices are already widespread in the market, but are known to provide either inadequate or too much assistance to the user. While breathing needs vary from patient to patient, the current devices only offer a one-size-fits-all solution and do not address individual parameters. As a result, the majority of patients diagnosed with sleep disorders do not use their prescribed devices, which incurs huge costs to the healthcare system.
The ETARL is generated reliable data to demonstrate the validity of the design to help bring the proposed device to market. The ETARL is assessed the acceptability of the product to the target market and tested the product to ensure it functions as anticipated.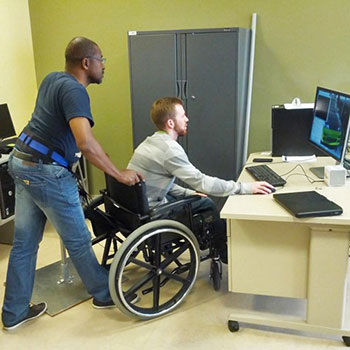 Anti-slouch wheelchair device
The wheelchair is among the most recognizable forms of assistive technology, and arguably the most important. According to Statistics Canada, over 60 per cent of Canadian wheelchair users are older adults, a demographic expected to double by the year 2050. Efforts are continuing in the field of assistive technology to move technology-related prototypes from the academic sector to finalized products ready for commercialization.
The ETARL is collaborating with Mackenzie Atlantic on a slouch correction aid for wheelchair users. Contributing expertise and facilities in bio-mechanics, the ETARL has helped with design parameters validation, function testing, and design improvements.
The proposed device is anticipated to enhance the independence of wheelchair users who are currently unable to correct their slouching posture and prevents pressure sores that result from sitting. This will help reduce back injuries among wheelchair users and workplace injuries for caregivers in long term care facilities. Pressure sores cost $5,000 per month and people often get multiple sores at one time, which quickly becomes a challenge for the healthcare system. The slouch correction aid aims to increase workers productivity in long-term facilities, improve conditions in the growing aging population, and reduce healthcare costs. This new product line has potential markets across North America and beyond.