Energy management projects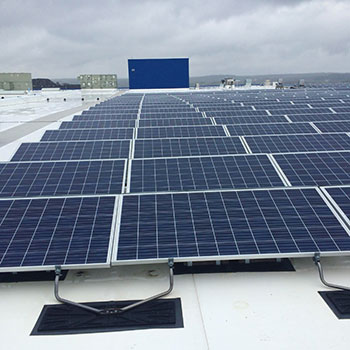 ROCarbon Labs
NSCC and ROCarbon Labs teamed up to look at ways to redirect IKEA's excess energy production. Due to net-metering legislation, IKEA cannot feed excess power back to the grid, meaning any surplus remains unused. Applied Energy Research completed an analysis to determine the curtailment of solar power at the IKEA store in Dartmouth Crossing. One of the key findings was that on 95 of 365 days throughout the year, IKEA was producing more solar power than it could consume.
ROCarbon Labs saw an opportunity to further analyze IKEA's energy data throughout the building with their software platform. The company hired Energy Sustainability Engineering Technology (ESET) student Braham Farrokhzad to identify and suggest energy savings opportunities within the building. They also highlighting methods to eliminate solar curtailment.
This energy intelligence, paired with NSCC's previous study, enables us to jointly tackle the problem of energy waste, in our pursuit of a net-zero economy.
Megan McCarthy
President and Co-Founder, ROCarbon Labs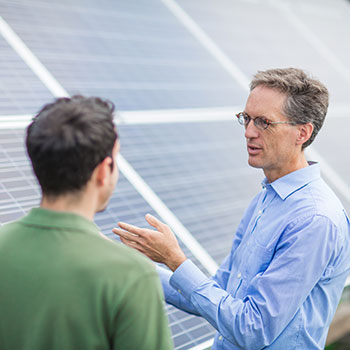 Battery Demand Study
Applied Energy Research is examining money-saving opportunities for businesses and non-profits in the southwest area of Nova Scotia.
The year-long study collects data on organizations located in commercial and industrial buildings. The AERLab is examining ways to reduce the electricity demand charge of commercial buildings in the southwest region of the province. The data will be used to quantify how these businesses/non-profits could benefit from the integration of battery energy storage and solar photovoltaic systems to supply electricity.
Nova Scotia Power
Partnering with Nova Scotia Power, the AERLab has installed and is testing a Coritech Services bidirectional electric vehicle charger. The device is a direct current (DC) vehicle-to-grid (V2G) fast charger connected to the Annapolis Valley Campus (AVC). Electric Vehicles (EVs) contain large batteries which store significant amounts of energy which could be used as an additional energy reserve.
The bidirectional charger allows the battery to supply power back to the utility grid or in this case, the AVC building. This can offset the demand (kW) of the building and reduce peak demand charges ($ per kW). This technology has the potential to support homes, commercial buildings and the grid during power outages and high demand periods. It can also help enable the grid to incorporate more renewable energy and less fossil fuel generation. In addition to the potential customer and utility benefits, this collaboration provides students with an opportunity to learn from testing happening on their campus.