From Sea Cadets to Marine Engineering fulfilling her dream to work at sea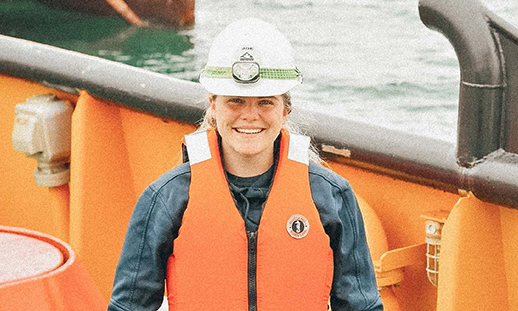 Growing up in Marion Bridge, Sea Cadet Kelsie Maclean considered becoming a fishing boat captain like her grandfather, until visiting NSCC's Nautical Institute in Grade 8. "We got to test drive nautical programs for the day. I remember thinking, I'd rather hold a wrench than look at fog, so that's how I chose engineering."

Going to sea is addictive she says, "I can't imagine working a 9 to 5 job in an office." Having graduated four years ago from the NSCC Marine Engineering Technology program, she is now a Chief Engineer with Atlantic Towing. "It's a job that pays very well. I work 6 weeks on and 6 weeks off. That's a lot of time off to go hunting, fishing, biking (ATV) and spend time with my dogs."

Kelsie made headlines last year as part of the first all-female tugboat crew in Canada. "That was a great experience. I'd love to see more women working on ships. There's lots of jobs available. In fact, I get calls from different companies all the time looking for people," she says. At just 25 she now owns her own house, truck, and most recently an ATV with all the accessories.

While women represent just 2% of seafarers, Kelsie says she doesn't mind often being the only woman on board and looks forward to a long career at sea. "I plan to get my 2nd and 1st class tickets to work on larger boats. It's interesting how much the world relies on this industry. From massive containerships and tankers, to the supply ships going to isolated places like Iqaluit."

Traveling to Scotland, northern Canada and ports along the east coast is another aspect of the job she loves. "Seeing the Northern Lights was just incredible. I think of mom and how she's always wanted to see them. I feel so fortunate to experience all these different places."
Thank you, Kelsie, for sharing your story and photos. Congratulations on your continued success from all of us at the NSCC Nautical Institute!