Crissi Cochrane shares the sweet sound of success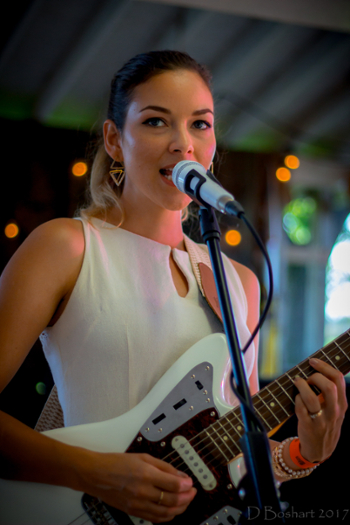 Crissi Cochrane's roots stem from the Annapolis Valley where she fondly remembers playing guitar with her dad at campfires when she was ten years old. Although her down-to-earth, creative personality is the same as that 10-year-old girl, Crissi has come a long way from those campfire jam sessions.
Now residing in Windsor, Ontario, Crissi's music has reached listeners all around the world. She currently has over 13 million listens on Spotify, has presented a TEDx Talk, co-founded a music co-op, and is currently crowdfunding for her first animated music video. Crissi is undoubtedly making an impression in the music industry, and she credits her success to creating a great support system, which includes a solid foundation from her time at NSCC.
As a graduate of NSCC's Music Business program, Crissi believes her time at the College set her up to be the self-managed, independent artist she is today. "My teachers were fantastic. They were all locally well-regarded in the music industry, I still remember so many of them. They left such an impression on me and to benefit from their wisdom was amazing," says Crissi.
Through the Music Business program, Crissi also took a Graphic Design course from instructor Scott Neily, "Scott, through that course, honestly saved me so much money over the years. I learned how to design my own website, promo posters, professional materials. I learned how to design all the items that cost musicians lots of money, money that they don't necessarily have starting out," she said.
For Crissi's final class project, the students submitted mock grant proposals. After graduation, Crissi took her grant proposal, tweaked it, and submitted it to the Province of Nova Scotia for a grant. The funding was approved, and Crissi recorded her first album in Chicago with the money.
Since that first project, Crissi has hit milestones that would make many artists envious. But instead of competing with other artists, Crissi firmly believes in working together to create a support system. She is currently working with a student animator named Delaney Beaudoin her upcoming animated music video for her song, Why.
"One of the most important things in the music industry right now is to band together with other musicians, whether that's just in terms of creating a support system for yourself or having a couple of peers in the industry that you can bounce ideas off," says Crissi. "The more that you can build a small network of people that you trust, that you can share with, and that lift each other up, the better you'll be as artists."
Interested in learning more about Crissi Cochrane or her latest crowd-funded animated video? Check out her website: Crissi Cochrane.