Spanish & Service Learning Summer School in Ecuador - Mitchell Bailey's Story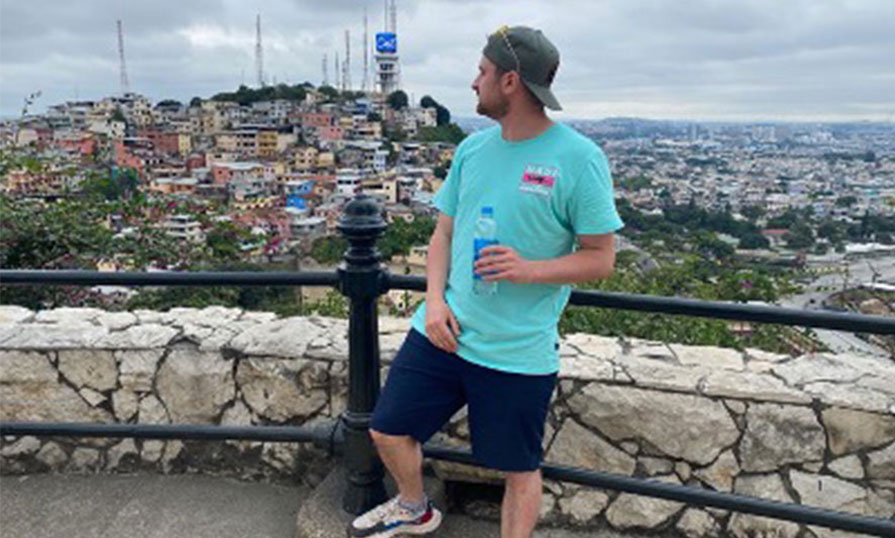 My four weeks spent in Ecuador were nothing short of a life-changing experience. Arguably the most eye- opening period of my life. Prior to this trip, I had never stayed in a foreign country for over a week, so I was unaware of my actual adaptability in regard to living in a place where I wasn't fluent in the country's most commonly-used language for an entire month. Thankfully, I was able to form strong relationships with our travel crew almost instantaneously which allowed the first few days of the trip to feel incredibly comfortable and welcoming.
The faculty at the university in Ecuador was instrumental in introducing us to the local students and allowing us to experience more rural areas of the country by taking us on weekend field trips outside of the city. Our Spanish instructor, Lilly, made our classes entertaining by incorporating music and various group activities into our lessons, so although we were still in class, it never really felt like we were just going to school. It was an experience. She even came out to Chilli's with us one night. What a champion.
The local university did an excellent job in pairing us up with our host families. Living with a host family was crucial for my language development. The host family experience allowed me to practice Spanish in a more practical and conversational way, as neither my host father nor mother spoke much English. By the end of my trip, I became noticeably more confident in my ability to have a conversation with them at the dinner table. Since arriving back in Nova Scotia, I've decided to continue studying Spanish online in hopes of obtaining a better understanding for the next time I return to South America.
I lived in a gated community and lived within walking distance of many people within our travel group, which made it relatively easy for us to get together every day and go on adventures around the city. The freedom that was provided to us by our host families was extremely helpful, as I'm someone who enjoys a lot of self-directed activities, and some of my best memories came from impromptu experiences that started from just a casual walk down the street with some of our crew.
I attended a Father's Day party with my host family and experienced a traditional Ecuadorian family gathering with over forty family members in attendance. I walked two hours into the jungle and saw a group of monkeys hanging out high in the trees, and then swam next to a mesmerizing waterfall by the end of our trek. I attended a soccer match and caught a drive to the game with a local named Julio and immersed myself into that loud, passionate, South
American stadium culture, cheering and booing, alongside thousands of singing fans. I went for a Sunday morning drive with my host dad throughout the North and South of Guayaquil to develop an improved understanding of the dramatic differences of individual neighbourhoods within the city first-hand.
We attended a talk with the former vice president of Ecuador. We climbed to the top of Santa Ana Hill, a 456-step journey accompanied by cafes, restaurants, and shops, which ends with a spectacular view of the city once you reach the top. We travelled to a cacao plantation and learned about the process of making chocolate, and even got to customize our own chocolate bars. I went to an art gallery where I put on 3D glasses and the art would pop out of the wall. I went to a food festival, which was really more of an outdoor concert than it was a food festival, and had a blast.
I discovered one of my new favourite dishes, known as encebollado, which is regarded as a national dish in Ecuador. It's a soup dish that features fresh tuna, yuca or cassava root, tomatoes, onions, cilantro, and spices and is served with curtido or pickled onions and tomatoes on top. Despite it sounding more like a lunch meal, most locals seem to prefer it as a breakfast dish on the weekends.
I think this experience will provide me with an advantage in regard to employment opportunities, as I strive tobe a journalist reporting on international affairs and to do that, you need to be comfortable with travelling and immersing yourself in unfamiliar territory. I think I accomplished that with this trip and I'm excited for what the future has in store.
I have so many stories and memories from this trip that I could probably write a book, but for now, I guess this blog post will do. I've made some incredible relationships thanks to this trip and for that, I'm endlessly grateful. If you're reading this and considering applying for one of these programs, please, take my advice and do it. It might just change your life.
Thanks, NSCC! I will be applying for the next round of international programs in 2023. Catch you all next time from another foreign country.
Mitchell Bailey
Radio Television Journalism Student
NSCC Ivany Campus