Bridge the Ocean Project Finland - Janet Hawkwood's Story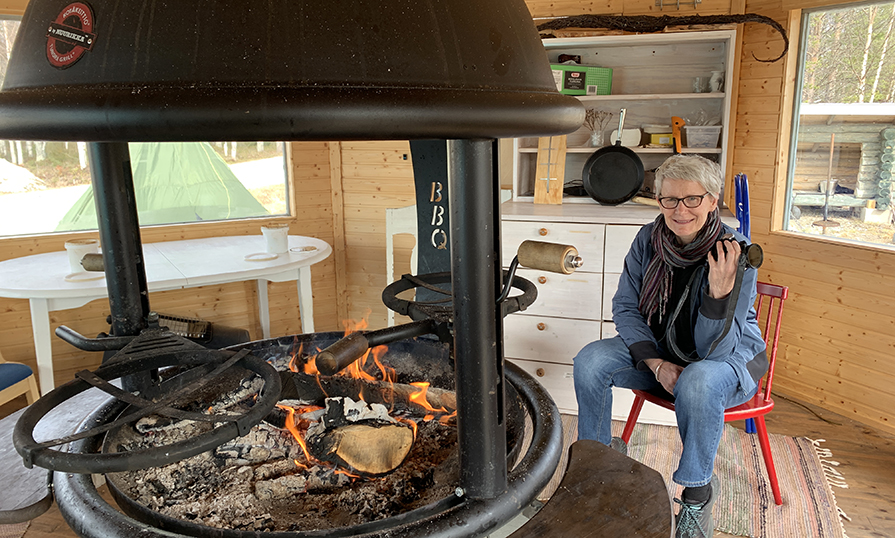 Once again NSCC International has helped create a fantastic international experience for everyone involved. The BTO project brought together students and faculty from colleges in Denmark, Holland, Finland, Nova Scotia and New Brunswick.
After two years of living with a global pandemic, it was so great to see, from day one, students interacting with each other creating an atmosphere of respect and collaboration. This spirit of connection continued throughout the two weeks we spent in Lapland, Finland.
We were there during the early spring, one of the eight seasons they have in Lapland, which gave us cooler temperatures, some snow on the ground and almost 24-hour daylight. All these factors came together to create a wide range of memorable experiences.
We went ice fishing, with a warning to avoid the dark spots, to keep moving in a nicely spaced line and not to wander off as we made our way to the fishing spot. Our group went in the early afternoon so by the time we were making our way across the ice, there was about 6 inches of water and slush on the surface. In the distance, you could see the open water along the far shoreline, beautiful but also slightly disconcerting. But once the fishing holes were drilled and the guides explained the process and handed out the smallest fishing rods ever, everyone settled into the moment.
It was a clear, sunny day, the air was still, quiet conversations and laughter could be heard and far in the distance, one lone cross-country skier was making their way across the huge expansive surface of snow and ice. At that moment I thought to myself…it must be alright, it must be completely safe, a cross-country skier wouldn't cross the ice if it wasn't safe! I'm not sure why I thought that really… but of course, it was completely safe, we had excellent guides, so excellent in fact, that one of them did manage to catch the only fish, who then kindly passed it around after it was cleaned and gutted for everyone to have a look at (some had a better grip that others!) and then finally handed it off to Chef Dave.
That evening, some of us faculty hiked out to a local Kota (an outdoor cooking building, that are found everywhere in the forests and backyards of Finland) where Chef Dave and Chef Emmanuel created an amazing meal with three different local fish; the white fish the guide caught, smoked arctic char and salmon, amazing!

Each experience, every adventure and all meals shared allowed for bonds and relationships to continue to be forged throughout the two weeks. Connections, for some, that will last a lifetime.
Janet Hawkwood
Screen Arts Faculty
NSCC Ivany Campus