VERB Interactive launches NSCC bursary program for women in technology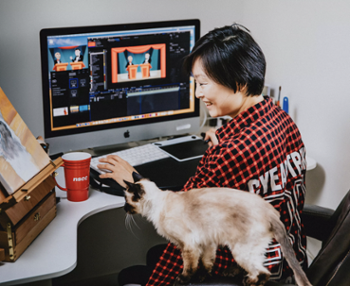 Supporting women in tech
The VERB Interactive Women in Tech Award, opening Fall 2021, will see five students awarded with $1,000 each for their Winter 2021 semester tuition. Then in Spring 2022, five additional students will each receive $1,000 awards, to support their Fall 2022 semester tuition.
"VERB is proud to say we employ talented women across all our teams and positions, including Director, Manager, VP, and C-suite-level roles," said VERB Chief Strategy Officer Stephanie McGrath. "And we believe successful companies like ours have a responsibility to support more women working toward careers in technology and ultimately leadership positions in technology. This new bursary program is one of the ways we are living this belief."
The VERB Interactive Women in Tech Award is open to students enrolled in one of the applicable technology programs at any NSCC Campus who demonstrate a financial need and self-identify as a woman.
Women are underrepresented in the technology sector in Nova Scotia so awards such as this one increase the supports for women to pursue a career in this growing, crucial field.
This award will also increase students' confidence by showing them a company as established as VERB Interactive supports their educational pursuits. Award recipients will also have the opportunity to complete an internship with VERB.
"Creating new opportunities has always been a core value of the company," said VERB CEO Andy MacLellan. "I'm proud we are able to bring this bursary to life and to welcome more talented women to the team. We look forward to an ongoing partnership with NSCC and its students."
VERB Interactive is a digital marketing agency based in Halifax, Nova Scotia. VERB creates inspired marketing for the best travel experiences. To learn more about VERB, visit: verbinteractive.com.