Scotiabank funding launches NSCC grad's new meal-kit business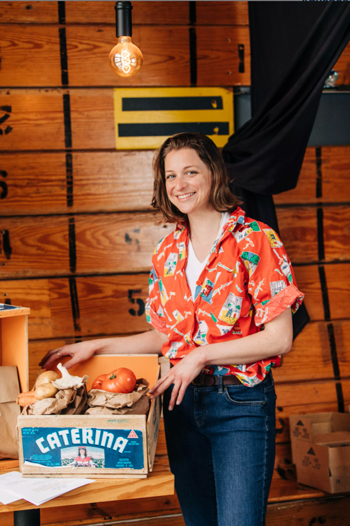 PieceMeal Food Provisions – A locally sourced meal-kit
Kara Friesen, 2020 Business Administration grad who attended NSCC Kingstec Campus, had tried meal-kit boxes in the past. She was always disappointed by the lack of local product and the excessive use of packaging she found in the boxes. She kept looking at them and wondering if she could create a more sustainable product.
"I was inspired to make a box that people could enjoy with peace of mind," Kara says. Kara's idea was to create a carefully curated chef-inspired meal box that supported small-scale farmers and used guilt-free packaging. She knew that because of the pandemic there was a drive to eat at home and to support local, but she needed some help getting her idea off the ground and ready for launch.
Kara applied to the Scotiabank Entrepreneur-in-the-Making program with her PieceMeal Food Provisions idea and was one of 14 successful finalists selected to receive a grant. The Entrepreneur-in-the-Making program, funded thanks to a donation by Scotiabank, is open annually to current NSCC students and recent graduates.
"Scotiabank aims to help entrepreneurs make their business aspirations a reality. Through our involvement with Scotiabank Entrepreneur-in-the-Making, we hope to enable and inspire others in Nova Scotia to develop innovative projects like Kara's," says David Noel, Scotiabank's Regional Senior Vice President, Atlantic region. "By working with NSCC, we are able to identify these students and alumni, learn about their impactful projects and help them achieve their goals," says David.
The program provided Kara with funding, business advisory sessions, mentorship, and networking opportunities. "The award covered some of those initial costs associated with starting a business," says Kara. "Start-up costs are always greater than you predict, so Scotiabank's seed money was essential. I wouldn't have been able to start the business without them. The mentorship was invaluable too. They went over pricing models and strategies for start-ups so I could focus on creating a real quality product."
Kara's PieceMeal Food Provisions is a product that she is proud to call her own. "Our produce comes from local, small-scale farms in the Annapolis Valley," says Kara. "We've eliminated wasteful packaging by using fully compostable containers, returnable glass jars and repurposed wooden wine crates," she says. "This model allows for a guilt-free, meal-prep experience."
For more information or to support PieceMeal, please visit Kara's website here.