Emergency bursaries: One small gesture can make a world of difference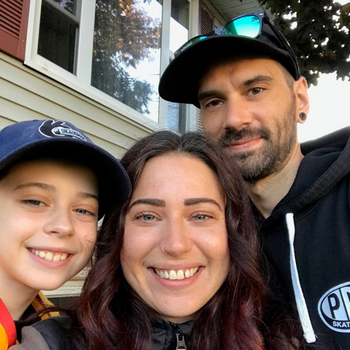 Making an immediate impact
Shaun D., a husband, father, and Digital Animation student at NSCC, felt a sense of relief when he received an Emergency Cost of Living Bursary last winter as grocery and gas prices soared. "It took a weight off my shoulders, and I was able to actually focus on my assignments, which was a big help considering everything that was happening at that time," said Shaun.
Where it all started
In his twenties, Shaun spent time in Calgary pursuing a career in carpentry before moving back to Nova Scotia to continue his trade at home. After ten years, Shaun's successful career as a carpenter ended abruptly with an injury. With a lot of care and consideration, he and his family decided it was the right time for Shaun to pursue his lifelong passion for art. Although it wouldn't be easy, stepping back from work and with a long commute from Timberlea, Shaun enrolled in the Digital Animation Program at NSCC's Truro Campus in the fall of 2021.
Facing a rising cost-of-living
Like many students facing issues due to the rising costs of living, Shaun struggled to focus on his coursework - the expenses he and his family had budgeted for suddenly ballooned. "We had so many things coming up near the end of the semester and I was trying to juggle everything on top of thinking 'how am I going to pay to get to school this week? Or focus on this assignment?' It was quite daunting and tiring," said Shaun.
Finding support
That's when Shaun connected with Student Services to help him navigate through this challenging time. As a first step, they gave Shaun grocery gift cards to help him and his family meet their immediate needs. Shaun and the Student Services Advisor then reviewed all the resources available to him which is how he learned about the Emergency Cost of Living Bursary. These bursaries are made possible thanks to Rapid Response donors, and help address large-scale financial challenges impacting students across the province.
"It was validating, and quite honestly, very overwhelming. One minute we're considering, 'do we have the means for me to finish this course?' And the next, to have someone I've never met before basically saying 'we can help,' well, that was quite a good feeling," said Shaun. After receiving the bursary, Shaun and his wife purchased groceries and used the remaining funds to buy gas cards, so if they needed them in a pinch, they'd be there.
A feeling of gratitude
Shaun is grateful for the support he received thanks to Rapid Response donors, and shares, "It just takes one small gesture like that to turn somebody's whole year around." To all the students facing similar challenges this year, he says, "Just don't give up. Believe in yourself, believe in your community, and believe in your school. There are resources here for you. There's a large gathering of people who care and will support and help you with what you need.
If you're an NSCC student facing financial challenges, you can connect with an advisor who can work with you to navigate the resources available to help you focus on your education.