New hope for a newcomer's culinary dream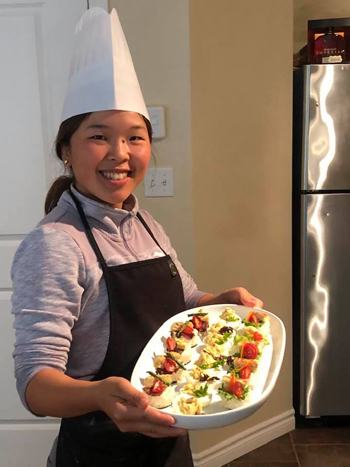 Devour! Hospitality Diversity Scholarship
Tsubaki Onishi moved to Canada at age 15 to attend high school and when the time came for her to select a post-secondary institution, she was looking for a program that aligned with her passion for cooking and entertaining, one that would prepare her for employment immediately after graduation. She selected NSCC.
As an international student, pursuing higher education came with financial challenges. Tsubaki applied to several awards and was pleased to find out that she had been selected for the Devour! Hospitality Diversity Scholarship. 
"With more money in my budget, I am now able to get the right ingredients to practice at home with different dishes." Tsubaki says.
Tsubaki is thankful for the support from donors that have made it possible for her to go to NSCC. "I am getting hands-on experience. Every day I am learning something new; new recipes and new ways of doing things. NSCC gives me the confidence that I am on the right career path and I know that when I graduate, I will be ready for this industry."
Established in 2020, this scholarship is an extension of Devour! festival's support of NSCC Film and Culinary students. The scholarship seeks to ensure that the next generation of the hospitality workforce better represents the diversity of Nova Scotia.

Following graduation, Tsubaki is looking forward to continuing with the Culinary Management Program, becoming a permanent resident, and starting her career in the culinary field.