Gift of Sikorsky S-76 will boost Aviation Program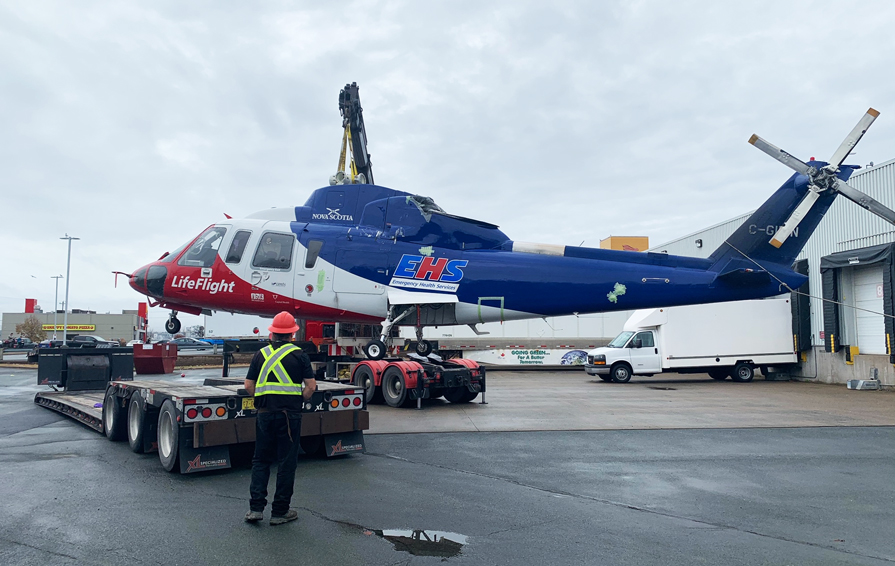 Donation instructional equipment
Every year, NSCC's Aviation Institute welcomes over 150 students to its programs, and while 2020 has changed how the mostly hands-on program is delivered, this year's students have something to look forward to­ – a Sikorsky S-76 Model Helicopter donated by Canadian Helicopters and EHS LifeFlight.
Prior to its retirement, the aircraft served as a medevac helicopter and was used for critical patient transport in the Maritimes.  Although no longer in service for medical evacuation, the Helicopter is on a new important mission, providing NSCC Aviation Institute with a much-needed training aid for students in the Aircraft Maintenance Engineering (AME) programs.
We are so pleased the aircraft had found a home within Nova Scotia, and with the NSCC program.
C-GIMN, with its distinctive red, white, and blue paint scheme, was a fixture in the skies over Nova Scotia for over 20 years. It has flown thousands of missions in the Maritime Provinces, ranging from intensive care unit transfers, to trauma, neonatal and pediatric patients just to name a few.
As a NSCC graduate myself, and with numerous alumni working for CHL, I couldn't imagine a better home for the helicopter, and ecstatic it will continue its life right here in Nova Scotia.
Shawn McCarville
Base Manager, Halifax LifeFlight Program.
For Don White, the Aviation Institute's Quality Assurance and Compliance Coordinator, this donation is a much-needed addition to the training aids available to students in the various programs.  
Systems such as functional hydraulic flight controls and landing gear, engine fire detection and extinguishing, as well as oxygen and flotation systems, will provide AME Mechanical students with the opportunity to work on and learn about these aircraft systems.
The helicopter also has a functional autopilot, GPS and an updated Avionics package, which will greatly benefit our AME Avionics program.
It is also constructed of a variety of materials such as composites, aluminum, and other metallic alloys beneficial to the AME Structures program.
 "Overall, having a fully functional aircraft added to the Aviation Institutes training aids will have enormous benefits to the school, students and to the program. We would like to thank Canadian Helicopters for their generous donation and the support they have provided throughout the acquisition."