Urgent Aid
The NSCC Urgent Aid Program is available to provide financial assistance to help address urgent financial situations that puts students at risk of discontinuing their education at NSCC.
NSCC students are eligible for Urgent Aid funding each academic year. Due to the increase in demand for urgent aid during this COVID-19 crisis, the amount of funding that students are eligible for has been increased. As part of the Urgent Aid process, students receive financial advising and financial literacy training. Applicants must meet with an NSCC Student Advisor to discuss their situation and demonstrate financial need.
Current Need
As a result of the ongoing COVID-19 pandemic, NSCC students are now working and learning remotely to finish their winter semester. Many of our students relied on the services of their campus library and Wi-Fi to complete their schoolwork, now that the campuses are closed to the public, students are without this resource.

This has created a significant increase in requests for urgent aid funding to help fill the need for access to computers, internet, and basic everyday needs.
Impact
Through the Make Way campaign, over $1.9m was donated towards Urgent Aid. Thanks to the generosity of donors, we are able to support students with immediate financial need including housing costs, meals, childcare, tools and much more.

During the 2018/2019 academic year, 739 students received urgent aid totalling $212,000. Access to these funds provide NSCC students the extra financial support they need to remain in their programs, reach graduation and become productive members of the workforce and their communities.
One of those students is Charles Jackson. In 2019, at age 49, Charles realized that he couldn't read the textbooks or the writing on the board in his new Business Administration course. His eyesight had been compromised after years of working in front of a computer screen and he needed an eye exam. With urgent aid, Charles was able to have an eye exam and glasses before the end of his first month at NSCC.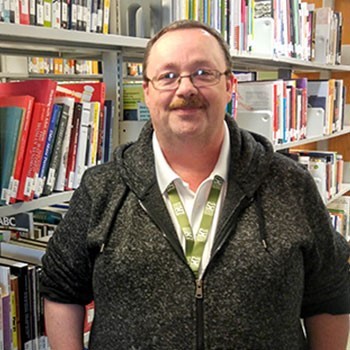 I was helped so quickly that I was speechless. As a direct result of urgent aid, I am able to read. And, I have chosen to give back to the school by providing peer-to-peer tutoring for others in need.
Charles Jackson
Marconi Campus
How You Can Help
Students need you now more than ever. To talk to review options for supporting students, please contact Whitney: , or Ben:
We encourage donors to seek professional, financial and legal advice regarding each unique situation. Our staff are available to assist in answering any questions and helping finalize gift details.