Hope for a Fresh Start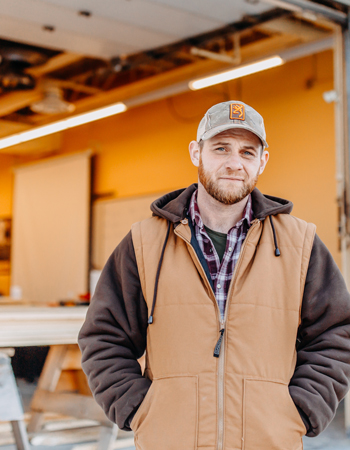 Limitless
From a young age, Pieter knew he wanted to be in the construction trade. The smell of fresh-cut wood brings back memories of working on small carpentry projects with his grandfather when he was growing up. But at age 30, he found himself on a different path, incarcerated in Pictou.
In 2018, when his case management officer introduced him to the Limitless program, he knew this was the opportunity to get back to doing what he truly loved. He quickly filled in his application, and before long, he was enrolled in carpentry at Kingstec Campus.
The journey has been one of learning and maturity. "The school has really had a positive impact on my life. I was surrounded by mentors and counsellors including my boss, Tim," says Pieter. "Whenever I was frustrated, I had someone to talk to, and he would steer me in the right direction."
While he is excited about graduating this year, Pieter is sad to be leaving behind his new NSCC family and is hopeful that the connections made will last long into the future.
Pieter speaks candidly about his future prospects. When he started the program, his intentions were to go on to receive his Red Seal accreditation. However, he now feels that he has a better understanding of his strengths and knows he will be happier continuing his career working for a reputable construction company in Kentville.
"I have nothing but thanks for everyone involved. It was a really life-changing experience. It made me want to be a better person"
The Limitless Program is made possible by donor funding and its objectives are fulfilled through a partnership with NSCC's School of Access, Education & Language, and the Nova Scotia Department of Justice.