2023 Marine Skills Competition
March 8th and 9th
NSCC's Marine Skills Competition brings together both the Navigation and Engineering cadets in team building exercises designed to test their knowledge and ability but also to help develop leadership skills and confidence as they prepare to enter the industry as qualified ships officers. Navigators and Engineers will be teamed together to test their proficiencies where safety, knowledge of regulations and technical skills will be demonstrated and executed in stations such as Marine Engineering, Marine Navigation, Seamanship and Safety.
Marine Skills Competition Itinerary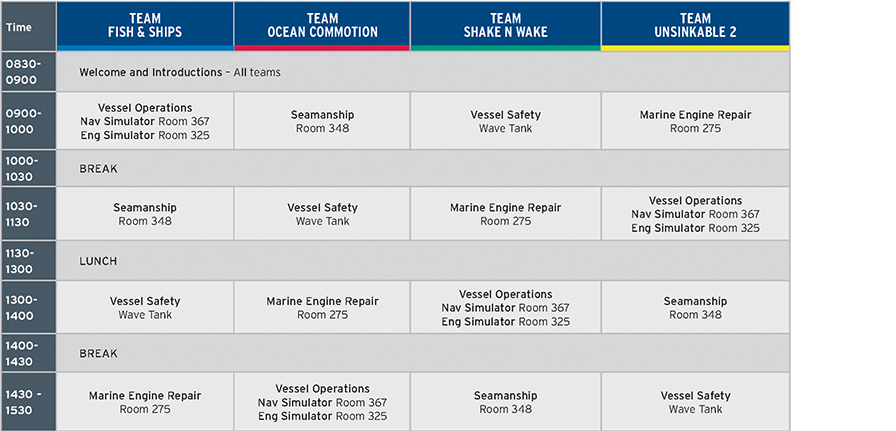 2023 Marine Skills Teams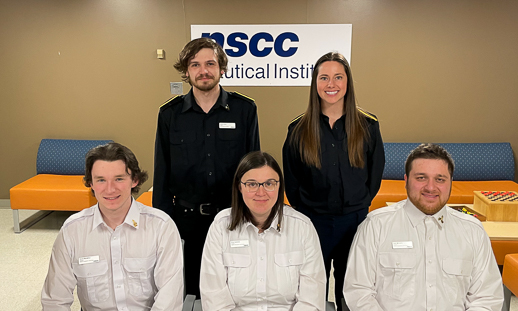 Ocean Commotion
Front Row L-R: Dan MacMillan, 1st Year Navigation; Erica Hanhams, 1st year Navigation; Sean McCarthy, 1st year Engineering Back Row L-R: Andrew Snow, 3rd year Engineering; Morgan Lynch, 2nd year Navigation; Missing: Kylie Anderson, 1st Year Navigation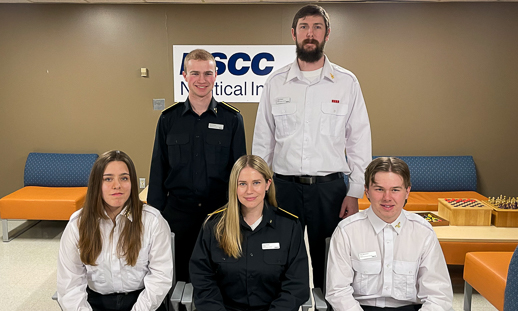 Fish N Ships
Front Row L-R: Alexis Madore, 1st year Engineering; Kayla Wemp, 3rd year Navigation; Felix Weissbach, 1st year Engineering  Back Row L-R: Boyd MacIntrye, 3rd year Engineering; Justin Pautsch, 1st year Navigation; Missing: Pieter Blok, 1st year Navigation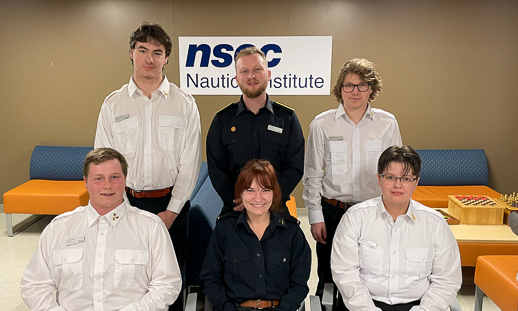 Shake N Wake
Front Row L-R: John Hansen, 1st year Engineering; Sylvie LeBlanc, 3rd year Engineering; Chelsea King, 1st year Navigation Back Row L-R: Keegan Macphail, 1st year Navigation; Sheldon Rose, 2nd year Engineering; Cadyn Power, 1st Year Navigation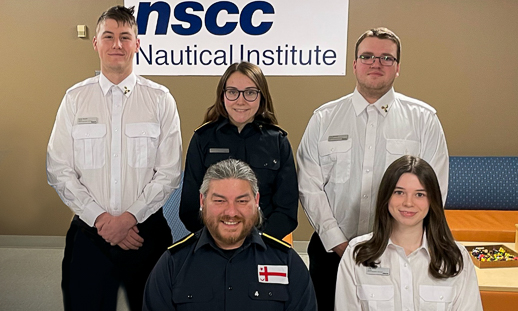 Unsinkable 2
Front Row L-R:  Bryson Silliboy, 4th year Navigation; Cora Kehoe, 1st year Navigation Back Row L-R: Hunter Murphy, 1st year Engineering, Sylvie Boudreau, 3rd year Engineering, Cody MacNeil, 1st year Engineering; Not pictured: Josh Murphy, 1st year Engineering
A Very Special Thank You
Thank you to all our event sponsors for your continued generous support. Your contributions help provide welcoming and rich learning experiences for our Cadets training for careers at sea.
150th Anniversary Presenting Sponsor
Since the company started in 1985, Cooke has been working to improve and advance the seafood industry with the help of key partners in science, engineering, and sustainable development. From humble beginnings to a global leader in aquaculture and wild fisheries, Cooke has remained committed to its communities by providing employment and economic development while valuing qualities such as respect, compassion and generosity. There is a wide array of careers available with the Cooke family of companies. An ocean of opportunity awaits!
Master/Chief Sponsor 
Algoma Central Corperation owns and operates the largest fleet of dry and liquid bulk carriers operating on the Great Lakes – St. Lawrence Waterway, including self-unloading dry-bulk carriers, gearless dry-bulk carriers and product tankers. Algoma also owns ocean self-unloading dry-bulk vessels operating in international markets and a 50% interest in NovaAlgoma, which includes a diversified portfolio of dry-bulk fleets operating internationally.
The CSL Group Inc. ("CSL") of Montreal, Canada is a world-leading provider of marine dry bulk cargo handling and delivery services. Through its major operating divisions, Canada Steamship Lines, CSL Americas, CSL Australia, CSL Asia and CSL Europe, CSL owns and operates a highly diversified fleet of specialized self-unloading vessels, off-shore transshippers and Handysize bulk carriers, and delivers more than 78 million tonnes of cargo to industrial customers annually. CSL's history can be traced back to 1845. At CSL, we are committed to the wellbeing of our crews and employees, and to promoting a corporate culture that values high ethical standards, a safe and healthy workplace and respect for the environment. A career with CSL is both stimulating and challenging, and we are continually seeking skilled and passionate individuals to occupy key roles throughout our company.
Horizon Maritime has operations in both Norway and across Canada and is positioned to serve both the unique challenges of our Canadian waters as well as harsh and deep-water environments around the globe. Our company is built on a foundation of trust and integrity, driven and developed by energetic, hands-on professionals in a collaborative environment. Our value streams support the Canadian and global marine industry with Offshore and Inshore Operations, Vessel Crewing, Logistics and Vessel Management, all while supported by an unwavering commitment to health and safety. We recognize, partner with, mentor, and hire from traditionally underrepresented groups, as such we are an equal opportunity employer and support the development of our people through training and mentoring. We also work closely with many Universities and Colleges in Canada to create meaningful opportunities for students and graduates both on and offshore."
Officer Sponsors
Marine Atlantic, headquartered in St. John's, NL, is a federal Crown Corporation tasked with fulfilling the constitutional mandate of offering a freight and passenger service between North Sydney, NS, and Port aux Basques, NL. Marine Atlantic provides ferry services on two routes: a year-round 96 nautical mile daily ferry service between Port aux Basques and North Sydney and a seasonal 280 nautical mile ferry service between Argentia, NL and North Sydney. To fulfill its mandate, Marine Atlantic operates a fleet of four ice-class ferries: the MV Blue Puttees, MV Highlanders, MV Atlantic Vision, and MV Leif Ericson.
Master Mariners of Canada is a professional association for those qualified to command. It was established to encourage and maintain high and honourable standards within the nautical profession, further the efficiency of the Sea Service, and uphold the status, dignity, and prestige of Master Mariners.
Svitzer is the largest global company within towage and related services. We employ over 4000 employees and have a fleet of over 500 tugs. We are part of the Denmark-based A.P. Moller/Maersk group - the world`s largest group of maritime companies. Being a part of the Maersk Group with over 89,000 employees and offices in 130 countries, we have the scope to help you achieve even your most ambitious career goals
Supporting sponsors
The Atlantic Pilotage Authority (APA) provides a safe and efficient pilotage service to the marine community in Atlantic Canada. Our highly skilled marine pilots handle a wide variety of ships ranging from small foreign fishing vessels to some of the largest supertankers afloat. They, with the support of our pilot boat crew, make a vital contribution to the protection of the environment, to safeguarding the lives of mariners, and to preserving and promoting the economic wellbeing of the ports. Operating in over 30 ports across Atlantic Canada, we take pride in our longstanding tradition for providing a valuable pilotage service.
CIMarE was incorporated April 30, 1976 to advance and promote in Canada the science and practice of marine engineering, naval engineering, ocean engineering, marine electrical and electronic, control engineering and other associated professions.
Ocean has been supporting our clients in building the marine world of tomorrow, for over 45 years. Our range of marine services is the most comprehensive in the industry and meets various needs including harbour towing, salvage, ship construction and repair, marine transportation, dredging and specialized marine equipment rental. We are committed to providing eco-conscious, top-quality services to our clients and a stimulating, respectful and safe environment to our employees, while maintaining healthy profitability in order to support the investments required for our development.