Topo-bathymetric lidar
Analyzing Marine Liquefied Natural Gas Transport Infrastructure
A topographic-bathymetric lidar survey conducted on October 26, 2015 by AGRG collected detailed elevation data for a site in Goldboro, NS to support a pre-engineering analysis for a marine liquefied natural gas (LNG) terminal. Pieridae Energy (PE) used the data to confirm the best location for the new LNG wharf and jetty structure.
A hybrid elevation model was constructed based on the topographic and nearshore bathymetric lidar survey results, collected with a Leica AHAB Chiroptera II lidar sensor, and merged with deeper bathymetric echosounder data provided by PE. The wharf and jetty structure was superimposed onto the hybrid elevation model, and a volumetric displacement analysis was completed.
Learn more about Analyzing Marine Liquefied Natural Gas Transport Infrastructure (PDF 2.78MB).
Aquaculture and Coastal Development in Nova Scotia
Three shallow, highly productive, eelgrass-rich inlets on NS's Northumberland Strait were surveyed in July 2016 using aerial topo-bathymetric lidar to collect seamless land-sea elevation and imagery data. AGRG's Chiroptera II integrated topo-bathymetric lidar sensor, equipped with a 60-megapixel multispectral camera, was used to survey Pugwash River and River Philip, Merigomish Harbour, and Mabou Harbour.
The combination of aerial photographs, high-resolution bathymetry, classified bottom maps, and modelled currents provided Nova Scotia Department of Fisheries and Aquaculture with a complete dataset for characterizing these inlets.  This information helps prepare for future sustainable development.
Learn more about Aquaculture and Coastal Development in Nova Scotia (PDF 4.94MB).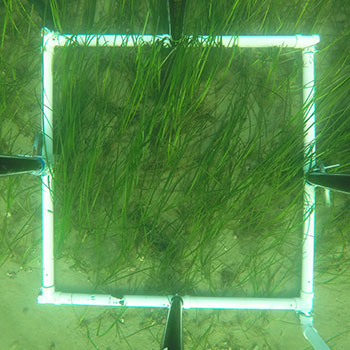 Examining Eelgrass Productivity in NB
The Applied Geomatics Research Group surveyed three bays in NB - Saint-Simon, Tabusintac North, and Cocagne River, using a topographic-bathymetric lidar sensor equipped with a high-resolution camera. These areas are all shallow inlets containing both eelgrass and shellfish aquaculture.
The data from the surveys are part of a larger project developed by the Program for Aquaculture Regulatory Research (PARR) that investigates the relationship between eelgrass, depth, and aquaculture. This research helps aquaculture in NB, NS, and PEI to sustainably manage and grow their industry.
Learn more about Examining Eelgrass Productivity in New Brunswick (PDF 2.98MB).
Infrastructure Assessment to Support Aquaculture
Scotian Halibut uses nearshore coastal waters to fill their onshore halibut tanks in Lower Woods Harbour, Nova Scotia. Scotian Halibut has two pipes that extend approximately 250-300 m into Woods Harbour. The pipes intake fresh salt water directly into Scotian Halibut's facility.
Scotian Halibut used the aerial topographic-bathymetric lidar used to determine the precise location of the pipes. Data collection on the morphology of the seabed was used to explore the possibility of moving, extending and or enlarging the pipes for increased water volume intake.
Learn more about Infrastructure Assessment to Support Aquaculture (PDF 2.12MB).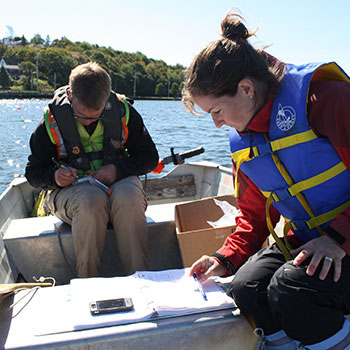 Mapping Aquaculture Bays for Marine Spatial Planning
AGRG assisted the Department of Fisheries and Oceans Canada (DFO) with marine spatial planning by surveying four NS bays in the Northumberland Strait using topo-bathymetric lidar. The bays are shallow, protected inlets vegetated with eelgrass that host aquaculture. AGRG used the integrated Chiroptera II topo-bathymetric lidar sensor, which is equipped with a 60-megapixel multispectral camera, to survey the area.
Eelgrass maps were constructed using a combination of aerial photos, lidar reflectance, and depth maps. The ground truth survey highlights additional information such as bottom type, underwater photos, and water clarity. This is an ongoing project.
Learn more about Mapping Aquaculture Bays for Marine Spatial Planning (PDF 2.47MB).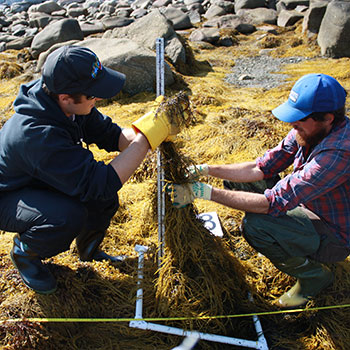 Quantification of Intertidal Macroalgae in NS
Acadian Seaplants Limited (ASL) harvests and manages the intertidal seaweed Ascophyllum nodosum, commonly known as rockweed, along 2,500 km of shoreline in Nova Scotia. The quantification of this resource is challenging because of its occurrence across varied and extensive intertidal zones.
AGRG began its partnership with ASL in 2015 to conduct repeat high tide surveys of a productive rockweed site in Shag Harbour, NS. The coastal research group has been investigating the potential to quantify the amount of available rockweed biomass using a topo-bathymetric lidar sensor. This project is ongoing and will be finished mid-2018.