Modelling contaminants in the coastal zone
Advanced Mapping to Support Tanker Safety
Partnering with Fisheries and Oceans Canada (DFO), the Applied Geomatics Research Group (AGRG) participated in the Atlantic component of Canada's World-Class Tanker Safety Program. Using an airborne topographic-bathymetric lidar sensor and high-resolution aerial camera, AGRG developed detailed surveys that help establish a new level of oil spill preparedness.
Over the two-year project, AGRG generated high-resolution near-shore bathymetry maps, derived substrate and vegetation habitat types, and developed coastal hydrodynamic models. The results help ensure safe navigation of tankers into ports, and to better manage response time and logistics for oil spills.
In 2017, AGRG surveyed Deer Island and Grand Manan Island located in the Bay of Fundy, as well as two Atlantic Ocean study areas - the Big Basin and Canso.
Learn more about the 2017 DFO Tanker Safety Project (PDF 3.19MB).
In 2016, AGRG conducted airborne topographic-bathymetric lidar surveys in six areas of Nova Scotia and New Brunswick. The research team generated digital elevation models, colour-shaded relief models, and aerial photograph mosaics for each study area.
Learn more about the 2016 DFO Tanker Safety Project (PDF 3.85MB).
Atlantic Coast Emergency Preparedness
The Atlantic coast is home to a variety of shorelines that may be vulnerable to contamination in event of an offshore spill. Protecting biologically rich tidal inlets pose a challenge for responders compared to more accessible linear sections of the coast. Working with ECRC – a marine safety response organization, AGRG used airborne topo-bathymetric lidar and hydrodynamic modelling to help spill responders plan for different oil spill scenarios along the Atlantic coast.
This project provides information to responders to help guide restoration efforts, reduce costs, and mitigate health and safety risks.
Learn more about Atlantic Coast Emergency Preparedness (PDF 3.66MB).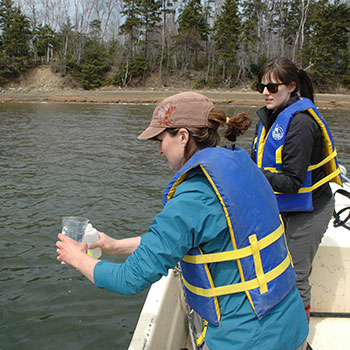 Optimizing Oyster Aquaculture in Little Harbour
The Applied Geomatics Research Group partnered with AquaDelights Seafood Inc. on this NSERC-funded project to assess water quality in Little Harbour, NS. Bacterial contamination in the area had been affecting both commercial and recreational users. AGRG investigated the sources, circulation, and flushing of the bacterial contamination.
The results of the study, which looked at water quality, spatial analysis and hydrodynamic model simulations of particles representing fecal coliform, showed minimal dispersion of particles away from their source. The particles had a tendency to settle on the shorelines. AGRG presented results at a community meeting in Little Harbour.
Learn more about Optimizing Oyster Aquaculture in Little Harbour (PDF 2.29MB).
Supporting Remediation of Boat Harbour
The Applied Geomatics Research Group surveyed outer Pictou Harbour using airborne topo-bathymetric lidar in September 2016 to collect high-resolution elevation data and imagery. Currently, Boat Harbour is a holding facility for effluent from the nearby Abercrombie Point pulp mill. However, plans are in place to remediate this area back to its original state as a tidal inlet.
AGRG developed a hydrodynamic model to simulate baseline current flow, water level variations and water circulation within outer Pictou Harbour. Over a 35-day period, AGRG measured water level and current speeds throughout a tidal cycle. Results from the lidar system combined with high-resolution imagery and ground truth maps, determined a baseline condition and provide a detailed reference of the coastal environment and ecology.
Learn more about Supporting Remediation of Boat Harbour (PDF 3.10MB).