Flood risk
Emergency Coastal Flooding Decision Support System
The Applied Geomatics Research Group (AGRG) developed a web-based Emergency Coastal Flooding Decision Support System that presents coastal flood risk from storm surges and long term sea-level rise in the Maritimes. The project was federally funded by the Canadian Safety and Security Program, in partnership with Public Safety Canada, and was locally managed by the Nova Scotia Department of Natural Resources, Mineral Resources Branch.
The web-based mapping system uses existing high-resolution lidar elevation surveys of coastal areas where flood risk maps were developed. AGRG has been developing flood risk maps from lidar elevation models for the last decade. Using this tool, Emergency Management Officials can access these maps when a storm surge is predicted or for assessing risk to long-term sea-level rise. View interactive maps.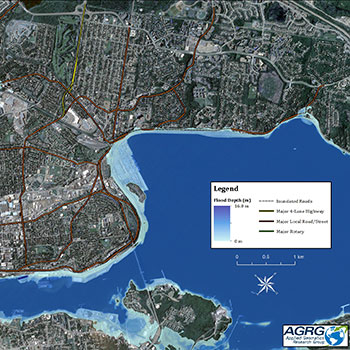 Flood Risk Mapping to support Evacuation Modeling in HRM
Partnering with Dalhousie University and the Marine Environmental Observation Prediction and Response Network (MEOPAR), AGRG participated in flood risk mapping of peninsular Halifax to contribute to a decision-making game to train and assist emergency management officials with making better decisions during evacuation events.
Tasked with determining the spatial flooding extents for various sea-level rise scenarios, AGRG also identified and quantified major road infrastructure impacted by floodwater under the different flooding scenarios.
Learn more about the 2016 Flood Risk Analysis of the Halifax Harbour (PDF 4.2MB)