Sushi business finds soaring success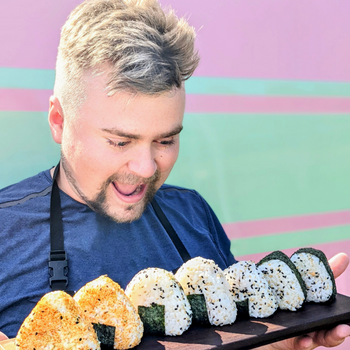 Despite opening Soaring Crane Sushi during the pandemic, a difficult time for many restaurants, Chef Liam Crane (Culinary Arts '17, Cooking Apprenticeship '20) and his fiancé, Ashley Scott, have quickly grown their restaurant in Enfield, NS.
"It's been a wild ride that's for sure. Sometimes it feels like the business is growing so fast and just as we get up and running smoothly, we're starting a new set up, which comes with another learning curve," says Liam.
The couple's hard work has been recognized by their community, naming them East Hants Favourite Take Out in the 2021 Best of East Hants Awards, and Young Entrepreneur of the Year at the 2022 Business Excellence Awards.
Meeting demand
Starting as a small Valentine's Day pop-up in 2021, Liam and Ashley opened their restaurant that March by renting kitchen space from Cup of Soul Café in Elmsdale.
The love and support from their customers and community encouraged them to take the plunge and move to Enfield to open their colourful food trailer in December 2021. Today, the couple are finalizing details to open a dine-in location soon.
"I've always wanted to create a restaurant that I could really be proud to own and work in, and that's exactly what we've done here," says Liam. "We take pride in our work and our ability to create a positive, fun, and fair environment for our staff and customers."
Being mobile has allowed their business to travel across Nova Scotia and showcase their culinary skills at events from Dock Street Days in Shelburne to the World Axe Throwing Championships in Barrington.
"We do offer catering for events, weddings, birthdays and more. We also offer smaller services like knife sharpening, and we hope to offer some basic cooking classes in the future," says Liam.
"We're not restricted to sushi either, we've switched things up every now and then. We've served up delicious, steamed buns at a previous event and we also did burritos/burrito bowls for a wedding."
Industry-focused education
As a two-time alumnus, Liam is grateful for the education and opportunity the College provided him. While at NSCC, Liam also travelled to Helsinki, Finland, to compete in the country's National Skills Competition, TaitajaPlus.
"I know Soaring Crane Sushi would not exist without the skills and relationships I made at NSCC," says Liam, who is a certified Red Seal Chef. "The skills I learned from the chefs and fellow students there really shaped how I look and think about food."
Liam was considering returning to NSCC to study business before opening his restaurant. Instead, he applied for the Scotiabank Entrepreneur in the Making Program (EITM) and was one of the winners in 2021, receiving an in-depth business mentorship along with seed money.
"Something that was really appealing to me about the program was the support from experienced entrepreneurs and financial experts," says Liam. "Of course, the $3,000 grant was also an amazing help as at the time, we were just starting up and using our personal savings."
NSCC Entrepreneurship was one of the main NSCC channels that supported Liam getting up and running, which included business advisory sessions and other entrepreneurial support and resources throughout the EITM program.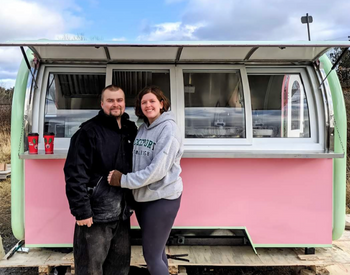 Giving back to community
Ashley and Liam are quick to recognize the positive impact of their local community on their business and they actively work to give back.
"My fiancé and I started the business with the goal of bringing something new and exciting to the area," says Liam an Enfield native. "We strive to use local, sustainable products whenever possible and are happy to support several local businesses in East Hants."
They pride themselves on using Nova Scotian seafood whenever possible, including crab, lobster, and salmon, which always gets the attention of their customers. They're also pleased to have had the opportunity to support various causes, fundraisers, and events in the community.
"Our biggest goal in the future, now that we're getting to the point of hiring more people, is to create a truly welcoming, safe, fair, and appreciative workspace," says Liam.
"We want to offer benefits, vacation, and sick time, and maybe start a conversation around why some of these things are so hard to find in the current environment."