Alum feature film hits local theatre

In 2021, Stephanie Joline (Radio Television Arts' 04) gave herself a year to focus on her filmmaking career, to make a project and call herself a producer. Within those 12 months, the Indigenous writer, director and producer achieved major career milestones, including a documentary and upcoming feature film. 

Through her work and commitment to the industry, Stephanie is undoubtedly helping get Nova Scotia back on the map for film.

"I love Nova Scotia. I think it is great. I mean, Halifax is a small city, but it's so supportive in the arts, and there are a lot of great talented musicians and filmmakers and artists and writers here," says Stephanie.  

Starting on April 8, Stephanie's first feature film, Night Blooms, plays for a week at Cineplex Cinemas Park Lane in Halifax. Written and directed by Stephanie, Night Blooms is a coming-of-age story set in the 1990s starring Nick Stahl, Jessica Clement and Alexandra McDonald. For her work on Night Blooms, Stephanie was long-listed as Discovery Award Director 2021 by the Director Guild of Canada.

Stephanie wasn't always sure of her path toward writing, directing and producing. It wasn't until Stephanie enrolled in NSCC's Radio Television Arts (now Radio Television Journalism) program in 2002 that she realized her passion for storytelling and film.
Discovering a passion
For a time, Stephanie was working at a coffee shop in her hometown of Yarmouth, NS, without any concrete career plans.

"I had a very small world view of what careers existed," says Stephanie. So when Stephanie discovered NSCC offered RTA in Kentville, she immediately applied.
 
"I applied with an interest in radio, so I thought." However, while in the program, Stephanie says she quickly discovered her true passion for filming, editing and storytelling. "I think storytelling is something that's always come to me easily and I mean, certainly with an Indigenous background like the elders, my grandmother — big storytellers." 

As a proud NSCC alum, Stephanie recommends NSCC to local people that ask about the film industry.

"It's great that you can get hands-on experience," says Stephanie, reflecting on her time at the College. "I don't learn well sitting in a room, listening to someone talk or reading something out of a textbook. I just do not learn that way."
A career outside the box
Following graduation, Stephanie quickly created her own path at an internship with CBC Television in Halifax, where she has since worked causally as a shooter and editor, and later becoming a radio technician, as well.  

"I don't know why, but I've never been one to fit inside the boxes very well. I just didn't want to get a 9-5… and the stuff that society expects us to do, I didn't ever want to do," she says.

The casual work allows Stephanie to focus on other projects, including being hired to direct for TV and streaming platforms.

"I started making music videos for my band and then from there, I started making short films for fun with my friends. So, I kind of grew, grew, grew and then started making documentaries and feature-length projects." 
 
In 2020, Stephanie was recognized as a rising Canadian talent and received the Irving Avrich Award from Toronto International Film Festival. Recently, she was nominated for her first Canadian Screen Award for best direction (factual) category under her previous name, Stephanie Clattenburg.
Creating space for diversity
Stephanie has been a big advocate for diversity in the Nova Scotia film industry.

"When I find myself in positions of power in the film industry, if I'm the producer or director, and I have a say over who gets hired, I will try my hardest to hire a lot of women; a lot of people of colour; a lot of Indigenous people; a lot of people with different genders and diverse backgrounds."  

For Stephanie, diversity in film goes beyond the screen and having a racially and gender-diverse cast. She emphasizes the importance of diversity behind the camera, especially when it involves storytelling and representing someone's point of view.  

Stephanie wants people to see themselves more in film. Not just in the character's physical attributes, but their experiences.

"If you have more stories coming from more perspectives, you'll just have more people that can relate to it."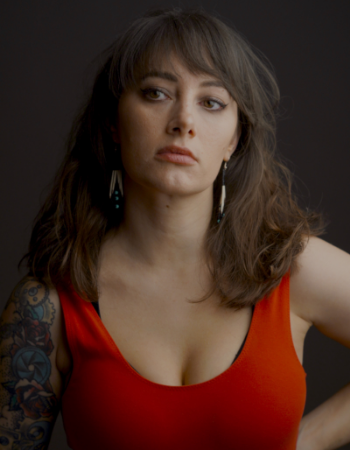 I think people around here do a pretty good job at supporting local films, but we could always do a little better. It would be nice if every local movie played in the theatre and sold out the theatre every night, and we were really out there supporting every other local movie.
Stephanie Joline (Radio Television Arts '04)
Writer, Director and Producer
Photo by: Paul McCurdy