Sustainable construction
We demonstrate environmental best practices through the design, construction and operation of our buildings. The following NSCC buildings demonstrate sustainable practices.
NSCC buildings
New Sydney Waterfront Campus
NSCC's new campus in Sydney is scheduled to open in September 2024. Site development continues on the Sydney waterfront. Our new campus is one of the largest pile-driving projects currently underway in Canada. Just over 800 structural columns need to be installed to serve as foundation support for the site.
Hon. Dr. John Hamm Trades & Innovation Centre
The new trades wing provides the campus with a specialized, multi-use training space for students enrolled in carpentry, cabinetry, motor vehicle repair, and heavy duty equipment programs.
The LEED Gold Certified building features an HVAC system that is heated by a south-facing solar wall and includes systems and features designed to reduce energy and water consumption.
Marconi Trades Building
Marconi Trades Wing is a Leadership in Energy and Environmental Design (LEED) Silver certified 'green' building.
It's 55% more energy-efficient than a traditional building.
As one of the first LEED Certified buildings in Cape Breton, it is home to automotive repair, heavy-equipment repair, motorcycle repair, welding, and metal fabrication programs.
Centre for Built Environment
The Centre for the Built Environment was constructed as a leading edge 'living building', to educate the NSCC community, as well as the general public, on sustainable best practices in building construction.
This LEED Gold Certified building features several renewable energy sources such as photovoltaic, wind power, geothermal, and solar walls.
The design and construction of the facility embodies and demonstrates ecological design principles and practices that are regenerative and restorative of natural ecosystems and that reflect the potential for buildings and nature to co-exist in a harmonious and mutually supportive relationship.
Pilikan House
Pilikan house is a "living lab" and demonstration site where students can learn how to incorporate sustainability into residential construction.
This building is a model of energy efficiency and requires very little energy to run. 
It relies on air-tight construction, extra insulation, triple glazed windows and passive solar heating to keep heat in and on Solar Photovoltaic Power to generate electricity to power lights and appliances.
Major Renovation Projects
Not only does NSCC build new buildings to LEED certification, we're also constantly upgrading and renovating our current campuses to make them more energy efficient and sustainable. Below are some examples of major renovation projects that have decreased our carbon footprint.
Akerley Curtain Wall
A curtain wall is the outermost wall of a building and is one of the biggest factors in building insulation. Upgrading curtain walls help to reduce energy consumption by reducing the amount of heating and cooling required to keep the building at a comfortable temperature. The Akerley Campus curtain wall upgrade has contributed to an overall energy intensity decrease of 33% since 2008.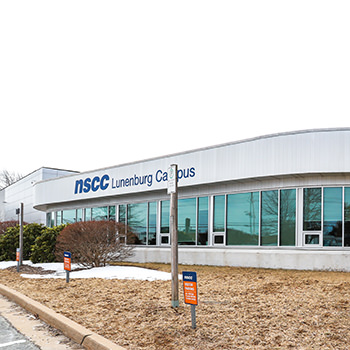 Lunenburg Curtain Wall
A similar curtain wall upgrade at the Lunenburg Campus was completed in 2017. Since 2008, energy usage at Lunenburg Campus has decreased by 27%, and this upgrade will help to continue this encouraging energy consumption trend.