New capital projects will expand size and training reach of College in communities across Nova Scotia
April 08, 2019 – Media Release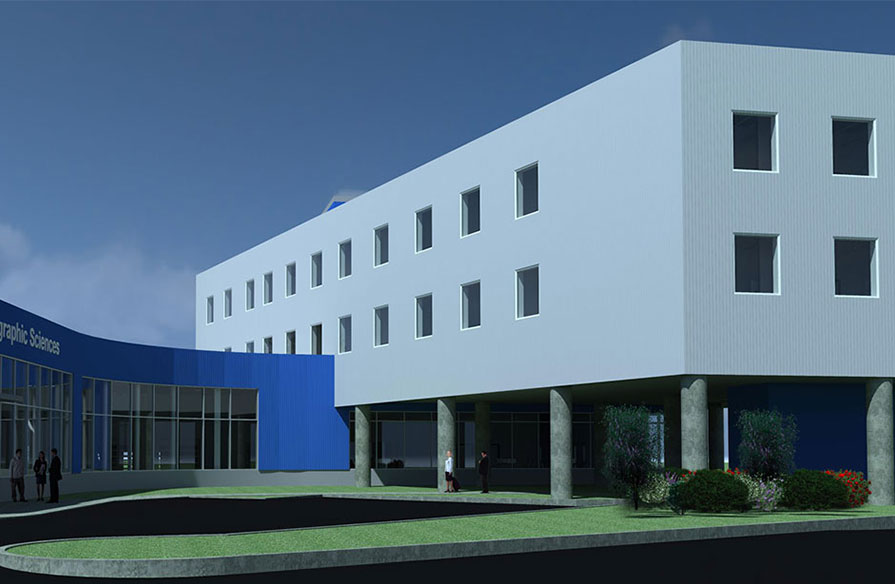 Lawrencetown – The construction of a new residence at the Strait Area Campus in Port Hawkesbury, a residence and business research centre at the Centre of Geographic Sciences – Annapolis Valley Campus in Lawrencetown, along with the addition of an IT Innovation Centre at the IT Campus in Halifax, will help grow the College's footprint, expand programming and better respond to demand within areas of growth.
Premier Stephen McNeil and Nova Scotia Minister of Labour and Advanced Education Labi Kousoulis, joined Nova Scotia Community College (NSCC) President Don Bureaux and Annapolis Valley Campus (AVC) Principal Dr. Wayne St-Amour at the College's Centre of Geographic Sciences (COGS) today (April 8) to announce three new campus infrastructure projects.
Bureaux says the new centres and residences will support important high-demand industry and training needs. The investment in the College's sites is also an investment in the three local campus communities. He adds, "We're looking forward to the exciting possibilities these new spaces and resources will create for students to open doors to exciting careers in growing sectors of our economy and have the space to collaborate with business on research and applied learning."
The projects are estimated to total $24 million.
Capital projects
Institute of Technology Campus (Halifax)
Information Technology Innovation Centre 
Estimate: $8 million
The IT Campus is at maximum capacity, with sustained year-over-year enrolment growth. The three-story, 21,000 ft2 addition to the IT Campus will focus on job creation and industry-driven problem-solving through expanded new program offerings and work-integrated learning opportunities. Offerings in the multi-functional space may include specialized information technology, analytics, and health information management programs.
Download full size image of Institute of Technology Campus
Strait Area Campus (Port Hawkesbury)
Residence 
Estimate: $7 million
There is great potential for NSCC to grow the scope of its offerings at the Nautical Institute at the Strait Area Campus – especially in the area of Transport Canada-approved marine training. The construction of a 51-bed, 20,000 ft2 residence will help the campus serve a broader range of students and clients through both its existing range of programs and potential program additions. The residence follows contemporary models for post-secondary student housing, configured along the lines of apartment living designed to accommodate its short-term program offerings.
Download full size image of Strait Area Campus
COGS – Annapolis Valley Campus
Residence and Business Research Centre
Estimate: $9 million
COGS is home to Canada's largest geomatics-focused learning environment where students and industry professionals are trained to launch and build mapping and information technology solutions. The construction of a 40-bed, residence at COGS is a priority to supplement the area's residential rental options. The new 27,000 ft2 space will include a business research centre. It will bring industry, students, and researchers together, serving as a hub for tackling geospatial challenges and issues that cut across key Nova Scotia sectors like agriculture, energy, health wellness and aquaculture.
Download full size image of COGS - Annapolis Valley Campus
"Nova Scotia Community College has a solid track record of training Nova Scotians to contribute to our Province as work-ready graduates, inventors, entrepreneurs and community leaders," says Premier Stephen McNeil. "Investing in the infrastructure that supports students and faculty today will continue to position NSCC and Nova Scotia as leaders in post-secondary skills training."
Minister of Labour & Advanced Education Hon. Labi Kousoulis adds, "NSCC plays an important role in ensuring Nova Scotia has the workforce that it needs today and in the future. These are smart investments that will help NSCC prepare job-ready graduates in critical areas like IT, marine training and geomatics."
Work will move forward immediately through initial requests for proposals to get all three projects underway.
About Nova Scotia Community College
NSCC is committed to building Nova Scotia's economy and quality of life through education and innovation, transforming Nova Scotia one learner at a time. Serving the province through a network of 13 campuses, the College offers 130 plus programs in five academic schools — Access, Business, IT & Creative Industries, Health & Human Services, and Trades & Technology — reflecting labour market needs and opportunities in Nova Scotia. NSCC's primary goal: student success. In an annual survey of its graduates, the College has found 88% are employed, most in their field of choice, with 92% of those employed living and working in Nova Scotia.
For more information

Kathleen Cameron, Manager, External Relations, NSCC
902-499-7844,
David Jackson, Office of the Premier
902-424-3882 or 902-266-8060,
Shannon Kerr, NS Department of Labour & Advanced Education
902-717-6061,
Niki Toomey, Communications Advisor, NSCC
902-476-1004,