Recreation grad heads to the NHL

Ottawa Senators Assistant Equipment Manager Ian Cox says his big break came on the first day of classes at Truro Campus.
"A teacher walked in and said that the Junior A hockey team was looking for an equipment guy," says Ian. "I already had a lot of the skills they needed because of playing hockey, working in a sports store and doing skate sharpening and whatnot."
He got the job. It morphed into a work term that was needed for his Community Recreation program at NSCC and Ian found himself applying what he was learning in the classroom to his work in the arena. "The program was broad spectrum as far as what it offered: event planning, anatomy and physiology," says Ian. "There were also a lot of tools that could be applied to any career. That's what I find myself using and benefitting from most today."
Recognized for his skill and work ethic, Ian was invited to stay on with the Junior A team following graduation, and spent six years building his skills with the team. In 2008 he secured a position with the Halifax Mooseheads. After three seasons in Halifax, Ian joined the Winnipeg Jet's Minor League Team – the St. John's Ice Caps – as their equipment manager.
Heading to Ottawa
When the Jets made a decision to move their Minor League Team from St. John's, Newfoundland & Labrador to Winnipeg, Ian and his wife Megan packed up their life and readied themselves to make the move as well. "It was two weeks before the move and all our stuff was in boxes. That's when John Forget, the head equipment manager for the Ottawa Senators, called. He needed an assistant equipment manager."
Ian adds that he'd met John in the minor leagues. "Of course, I said yes. We just told the movers that we were taking our stuff somewhere else now."
Today, Ian and John lead a team of equipment assistants and travel full-time, heading with the team to games across Canada, the United States and recently, Sweden.
"I do everything from sharpening skates and repairing equipment, to building budgets and dealing with customs when we're travelling with 70-80 pieces of luggage," says Ian. "And I'm quite the sewer."
He adds, "There's a lot of moving parts, I do a bit of everything."
Ian says that the organizational tools, confidence and technological skills he draws on each day to support this work, he gained through his program. "The program gave me skills, sure, but it also taught me discipline and gave me the ability to set goals. There was a lot of things that I didn't realize that I would need later."
He adds, "A lot of people want to get a job in sports, but they usually think as a player. That can be pretty unattainable and competitive. I took the Community Recreation program thinking that it could lead me to something more attainable while getting an education. I was right. This is what I love to do."
Related Stories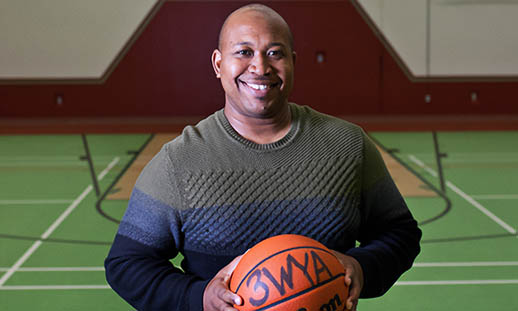 Coaching Greatness
NSCC grad, Coach Colter Simmonds, inspires young leaders through sport.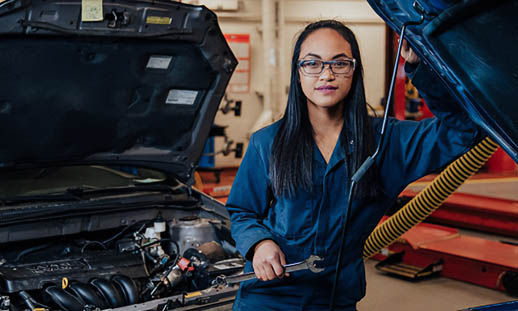 Finding Her Voice
NSCC student rises from suicide attempts to serve as mental health ambassador, ally.